Emotional Turnbull recalls dad's death in tribute to seaplane victims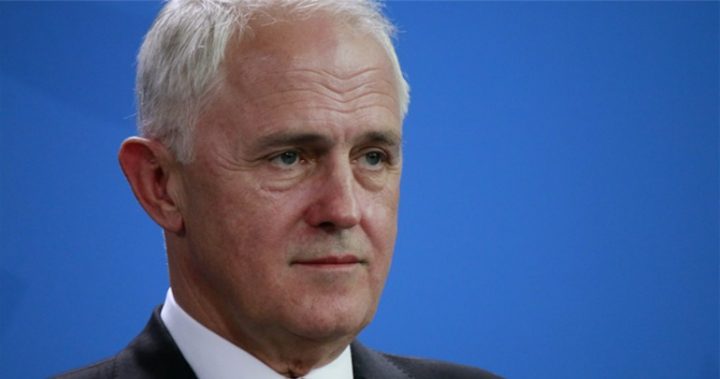 Prime Minister Malcolm Turnbull recalled his own father's death in a light aircraft crash as he paid tribute to the victims of the Sydney seaplane tragedy.
Six people were killed after a seaplane crashed into the Hawkesbury River on New Year's Eve, and the victims have since been confirmed as a family of five and a pilot.
Now, Turnbull has sent his condolences, and sympathised with the agony the family of the victims must be going through.
"Our hearts go out to the families whose lives were lost in this accident," he said today.
"My dad was killed in a light plane accident, not a seaplane, and these are tragic circumstances.
Ad. Article continues below.
Read more: Tragedy as six killed in Sydney seaplane crash on New Year's Eve
"We grieve for those who lost their lives. Our thoughts and prayers are with their families as they come to terms with this terrible loss."
Turnbull's father Bruce died in a plane crash near Gloucester in 1982, aged 56.
The victims of the crash have been identified by police as Gareth Morgan, a 44-year-old experienced seaplane pilot; Emma Bowden, 48, and her daughter Heather, 11, Ms Bowden's fiance Richard Cousins, 58, and his sons Edward and William Cousins, aged 23 and 25.
The Prime Minister was speaking at the North Bondi Surf Lifesaving Club, and also became emotional when he recalled the moment his father saved his life when he got into trouble in the sea.
Ad. Article continues below.
He had just announced a further $3million in federal government equipment funding for lifesaving clubs at the time.
"I remember as a kid, just off Ben Buckler here, falling off my surfer plane, and I was in plenty of trouble,'' he said, according to the Australian.
"And I can still see, it's hard to talk about this without being a bit emotional,'' he added, before halting as he fought back tears.
"I can still see my father swimming through the surf, swimming through the surf and he got me, and that's what lifesavers do."
It comes after a search-and-rescue operation located the submerged Sydney seaplane yesterday, but none of the passengers could be saved.
Ad. Article continues below.
Six people are feared dead in a sea plane crash on the Hawkesbury River. @jessicaridleytv @MyleeHogan #7News pic.twitter.com/ZtXDr18vCZ

— 7 News Sydney (@7NewsSydney) December 31, 2017
The plane, now identified as a DHC-2 Beaver Seaplane, is thought to be submerged under 13m of water, and was reportedly on a return flight to Rose Bay, Sydney Harbour from Cottage Point Inn.
Commander of the Kurung-Gai Local Area Command, Acting Superintendent Michael Gorman told reporters on Sunday: "We don't know why the plane crashed."
Eyewitness Myles Baptiste told 9News the plane was 500m from him when it hit the water.
Ad. Article continues below.
#BREAKING: Debris and an oil slick has been found on the surface of Cowan Creek as crews search for a seaplane that's reportedly crashed with up to six people onboard. #9News https://t.co/nCjLAqlJil pic.twitter.com/YSkMjTiM40

— Nine News Sydney (@9NewsSyd) December 31, 2017
"It made a tight right-hand turn and as it actually turned around, the wings dipped and it nosedived straight into the water," he said.
Sydney Seaplanes, the company which owned the plane, run scenic trips and sightseeing tours round attractions such as the Opera House, the Harbour Bridge and Pittwater.
They have now suspended all operations to help police with enquiries.
"All at Sydney Seaplanes are deeply shocked by this incident and the resulting loss of life. We wish to pass on our heartfelt condolences to the family and friends of the passengers and pilot who were tragically killed," the company said in a statement.