Trump suggests changing laws to be president 'for life'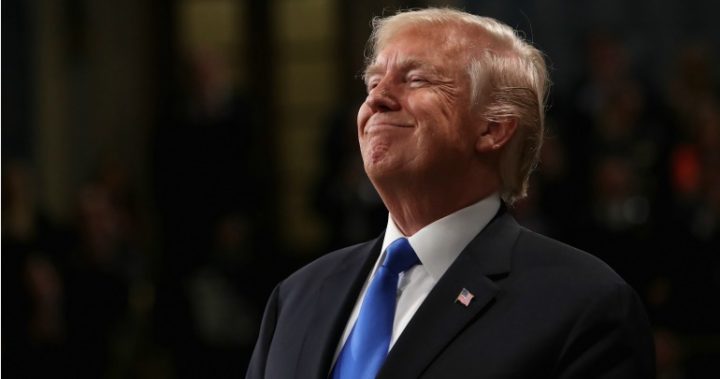 Donald Trump, president forever?
That's the idea Trump entertained in front of hundreds of supporters at a fundraiser in Florida at the weekend, according to reports from CNN.
Speaking at the event, hosted at the president's Mar-a-Lago estate, Trump waxed lyrical about ending the current two-term cutoff and allowing president's to hold the position for life following news his Chinese counterpart, Xi Jinping, had secured the elusive power for himself.
"He's now president for life, president for life. And he's great," Trump said of Xi, CNN reports.
"And look, he was able to do that. I think it's great. Maybe we'll have to give that a shot someday."
Ad. Article continues below.
It is not clear if Trump was making the comments in jest, or if he was seriously considering the idea as a possibility one day.
US Representative Ro Khanna, a Democrat, said on Twitter that, "whether this was a joke or not, talking about being President for life like Xi Jinping is the most unAmerican sentiment expressed by an American President".
"George Washington would roll over in his grave."
Just hours later, Trump was at the Gridiron Dinner in Washington where he showed a rare side to his personality: humour.
Speaking to the roomful of journalists and Capitol Hill elite, the president proved he can have a laugh, poking fun at himself and his administration in a joke-laden speech. The annual dinner is somewhat similar to the White House Correspondents Dinner, which Trump skipped last year, deepening his reputation as a man who can't handle being the butt of the joke.
Ad. Article continues below.
This time, he seemed intent of proving his critics wrong.
"My staff was concerned that I couldn't do self-deprecating humour," he told the crowd, reports The Hill. "And I told them not to worry, nobody does self-deprecating humour better than I do."
He went on to make light of the high staff turnover within his administration and even joked that first lady Melania might be next out the door.
"So many people have been leaving the White House. It's actually been really exciting and invigorating 'cause you want new thought. So, I like turnover. I like chaos. It really is good. Now the question everyone keeps asking is, 'Who is going to be the next to leave? Steve Miller or Melania?'"
Not even his previously adored son-in-law Jared Kushner was immune. Trump joked the reason he had been running late to the event was because Kushner, who last week had his security clearance downgraded, "couldn't get through the security" at the front door.
Not even talk of impeachment was off the table. Trump joked that his vice president Mike Pence started every morning asking people, "Has he been impeached yet?".
Do you think a strict two-term limit is a good rule for world leaders? Or should they be able to rule for longer if its what people want?