Donald Trump gives emotional speech on dead brother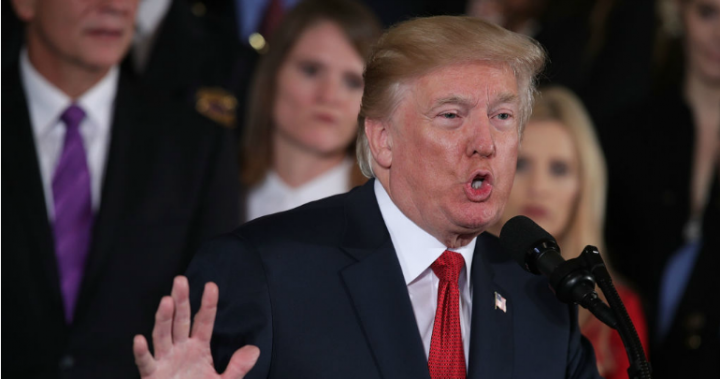 Donald Trump has given an emotional speech about his brother at the White House.
The president has vowed to end an opioid addiction epidemic in America, reflecting on memories of his own brother.
Sadly, Fred Trump died of alcoholism when he was just in his 40s.
Addressing the White House's East Room on Thursday with Melania, Trump got emotional when speaking of his brother.
"I learned myself, I had a brother Fred, great guy, best looking guy, best personality, much better than mine, but he had a problem," he said.
Ad. Article continues below.
He explained how his brother advised him to stay away from alcohol, advice that Trump has stuck to: "To this day I haven't had a drink and I have no longing for it, I have no interest in it. And to this day I've never had a cigarette."
Melania also spoke at the event, warning that addiction doesn't discriminate: "This can happen to any of us, drug addiction can take your friends, neighbours and family.
"No state has been spared. And no demographic has been untouched."
She added that her husband and his administration were dedicated to using as many resources as possible to combat the crisis.
Currently, 175 Americans die per day from the addiction and Trump was quick to point the finger at Mexico: "An astonishing 90 percent of the heroin in America comes from South of the border where we will be building a wall, which will greatly help with this problem."
Ad. Article continues below.
Speaking of building, his moving speech came after it was revealed just how much Trump would be spending to revamp the White House to suit his taste.
Despite previously referring to it as "a dump", new reports suggest that the former Celebrity Apprentice host has gone to extravagant lengths to make the White House his home.
Let's just say he's got very expensive taste when it comes to furniture.
NBC reports that the 71-year-old is set to spend $1.75 million on new furniture for his pad and the offices.
If government records are to be believed, Trump will fork out $17,000 alone on custom rugs.
Ad. Article continues below.
Around $5,000 is expected to be spent on wallpapers, while $7,000 has been set aside for an update of furniture pedestals. We don't think we've ever come across those on our trips to Ikea in the past.
If that wasn't enough, $12,800 will be spent on a lavish conference table.
It's believed that Trump will use the same company that made president Richard M. Nixon's table in the 1960s.
Barack Obama spent $1.5 million during a similar period when he was president.
The spending is said to cover the whole Executive Office of the President, which covers both Trump's residential areas, as well as building which staff thousands of employees.
What do you think of Trump's speech about his brother? Can you relate to him here?