Cory Bernardi wants Medicare to stop funding sex-selective abortions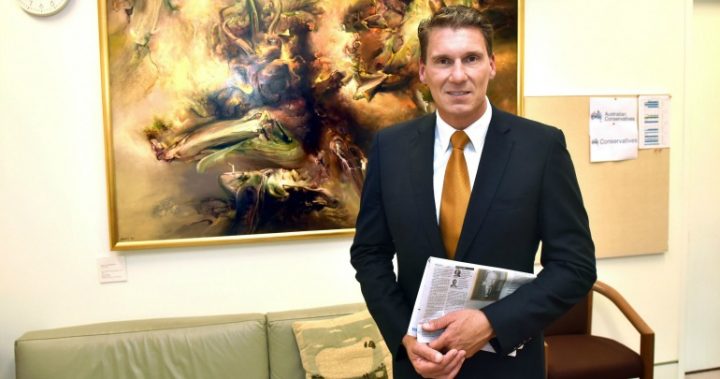 Australian Conservatives Senator Cory Bernardi introduced a motion into the Senate that would stop Medicare funding for some abortions.
In what was largely seen as an attempt to divide members of the Coalition, which he split from this year to set up his own Australian Conservatives party, Bernardi tabled a motion opposing government funding for the termination of pregnancies on the basis of the foetus' gender.
He also tabled a motion claiming White Ribbon Australia, an anti-domestic violence group, was an advocate for late-\-term abortions.
His Medicare-related motion was defeated, although frontbenchers Zed Seselja, Anne Ruston and Matt Canavan, as well as LNP senator Barry O'Sullivan, Liberal Eric Abetz and Pauline Hanson of One Nation, split with Coalition colleagues to support Bernardi's motion.
Motion lost, but thank you Senators O'Sullivan @PaulineHansonOz @SenatorBurston @ZedSeselja Anning @anne_ruston @SenatorAbetz @mattjcan @SenatorGeorgiou for your support. There is #ABetterWay https://t.co/gjMe4W89D7

— Aust Conservatives (@AuConservatives) November 16, 2017
Ad. Article continues below.
The White Ribbon motion was also defeated but the ABC said that Greens Senator Sarah Hanson-Young was prevented by the Speaker from abusing her Senate colleagues, having started to say that they were "a bunch of misogynistic … ", and she was called a "dill" by LNP Senator in response.
"Bernardi's series of motions sparked confusion among the Coalition, with some senators moving to sit with Labor but then changing their mind," the ABC noted.
This is despite the fact that there is no evidence that sex-selective abortions actually occur in Australia, regardless of Medicare funding.
Data on abortion more generally is limited because there's no national collection process and Medicare doesn't distinguish between terminations and treatments administered following a miscarriage, according to Children by Choice.
Ad. Article continues below.
Previous campaigns against Medicare-funded sex-selective abortions were unable to provide any definitive evidence that such medical interventions occurred at all in Australia, as a 2013 report by the Senate Standing Committees on Finance and Public Administration showed. 
It could find only hearsay and data relating to other Western countries to support claims that such abortions were undertaken in this country.
The committee was looking into a bill put forward by Democratic Labor Party senator John Madigan, which had the same purpose as that of Bernardi's motion. Madigan's bill was never put to a vote.
The Australian Conservatives campaign on Australian pride, lower immigration, the promotion of 'Western' culture, a smaller ABC, and a tougher criminal justice system.
The motions were among a number of 'ideological' ones reportedly brought by Bernardi recently. Others have included debating the end date of an Ottoman siege in the 1500s and the related creation of croissants, according to the ABC, which speculated that his actions were an attempt to sow division between the conservative and liberal members of the Liberal National Coalition.
Do you mind politicians wasting time debating motions over apparently non-existent issues? Or do believe that sex-selection abortions likely occur on the public purse in Australia, and that it's something that should be legislated against?