Cool and aloof: Melania rugs up in lush autumn ensemble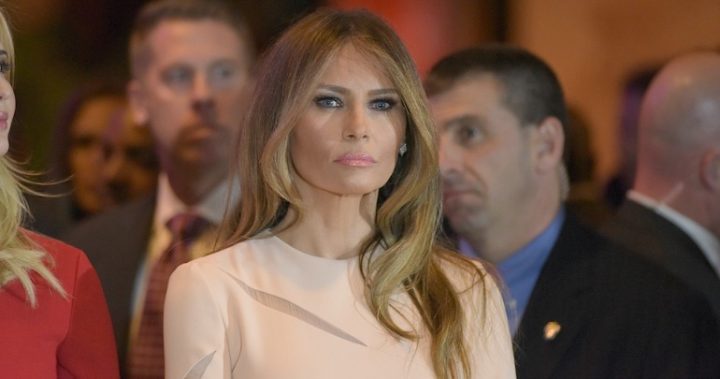 While the US president Donald Trump and his wife, first lady Melania Trump, were all smiles and laughter during their official duties, things looked a little more subdued as they touched down at the White House.
At the US Secret Service James J. Rowley Training Center, Melania had been the perfect guest, laughing at jokes and cracking smiles, her sunglasses stowed away and her focus fully on their guide.
The tour has been a traditional part of recent presidencies; Barack Obama and George W. Bush also made a point to visit the training centre and learn more about how the Secret Service operates and responds to various situations. 
Read more: Melania wears the pants in fun man-style suit with undone tie
Ad. Article continues below.
Descending from Marine One after returning to the White House, Melania donned dark sunglasses in addition to her cream Burberry trench coat with patterned trim detail.
As usual, her long brown hair was loose and cut to frame her face, highlighting those sharp cheekbones. 
While Melania has a tendency to choose heels wherever possible, she seems to have seen sense in swapping her trademark heels for Louboutin flats for the walking tour in Beltsville, Maryland.
Ad. Article continues below.
Trump has recently come under fire for stating in his address at the Values Voter Summit that he had "met with the president of the Virgin Islands" to discuss the damage caused by recent hurricanes.
Read more: Melania and Ivana Trump's public feud over first place
The remark wouldn't have seemed so out of place except for one thing: Trump is actually the president of the Virgin Islands. It's likely that he was referring to a conversation between himself and the US Virgin Islands governor Kenneth Mapp. 
What do you think of the first lady's outfit choice?