Bill Shorten compares himself to Obama over citizenship drama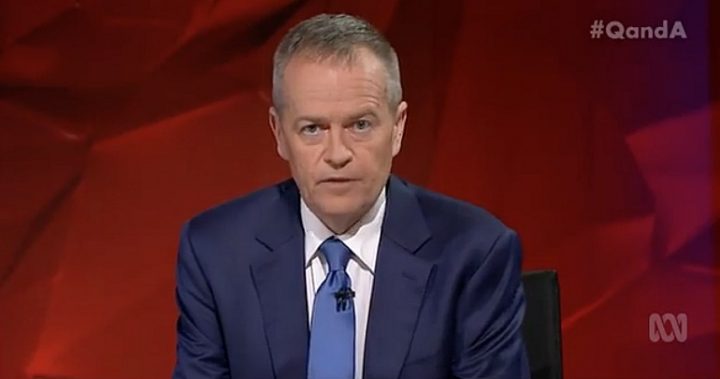 The citizenship drama plaguing Australian politics continued last night when Opposition Leader Bill Shorten compared himself to former US president Barack Obama, saying they were both the victims of fake news over their nationality.
Shorten has been under pressure from the Government to provide evidence he renounced his British citizenship before being elected.
The Labor leader has steadfastly refused and appeared on the ABC's Q&A last night insisting he has nothing to prove.
"Just because a Liberal makes an accusation doesn't mean the rest of us have to start searching through the filing cabinets," he told host Q&A Tony Jones.
"In America we've seen what happens when you have fake news.
Ad. Article continues below.
"They keep making allegations after allegations. Barack Obama had to produce his birth certificate and then they said it was a fake.
"Some people are never going to be satisfied … If we live in a nation where conservative interests can simply just repeat an allegation with no substance and you reverse the onus of proof that somehow you've got to contort yourself, that's not the way it works."
Shorten has been forced to refute claims he is a dual British-Australian citizen, but has not provided evidence to the contrary.
The Australian reports Shorten renounced his British citizenship in May 2006, before nomin­ating for the 2007 election.
The paper says they were told Shorten has not provided evidence to back up the claim because he "knew it to be true".
Ad. Article continues below.
Read more: No end in sight with citizenship questions for third Turnbull MP
When pushed on the issue by Jones, Shorten told the Q&A audience: "I know what I am. We have a screening process. I've been clear four times."
"That's a no? You're not going to release the documents?" asked Jones.
"What is the case to release it?" replied Mr Shorten.
"I'm just asking you," said Jones.
Ad. Article continues below.
The dual-citizenship ordeal has already claimed the careers of several high-profile politicians.
Greens Senators Scott Ludlam and Larissa Waters were the first to resign after realising their mistakes, and they were soon followed by LNP Senator Matt Canavan.
Deputy prime minister Barnaby Joyce referred himself to the High Court after discovering he was potentially a dual New Zealand-Australian citizen through his father.
The citizenship status of independent Senator Nick Xenophon and One Nation's Malcolm Roberts have also been brought into question.
Read more: Another one bites the dust: Are any of our MPs NOT dual-citizens?
Do you think duel-citizens should be allowed to enter politics? Or should you have to renounce your second passport to be a pollie?