Berlin faces neo-Nazi demonstration one week after Charlottesville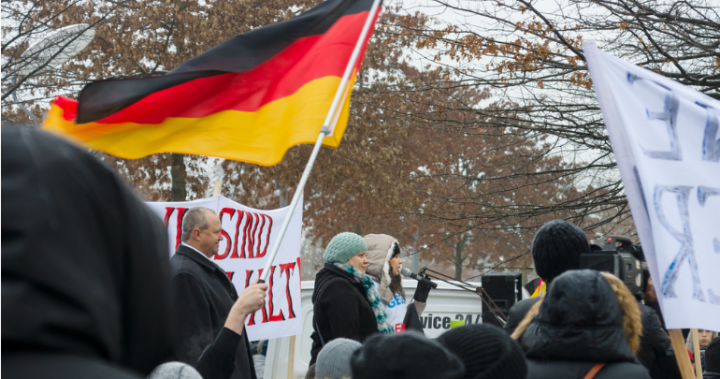 Just one week after the Charlottesville riots made headlines around the world, neo-Nazis have flocked to Berlin to honour the 30th anniversary of the death of Rudolf Hess, deputy to Adolf Hitler.
Hess was sentence to life in prison, which he served at Spandau Prison until his alleged suicide on August 17, 1987. Nazi sympathisers, however, maintain that Hess was murdered. They consider the man to be a hero, especially as he refused to show any remorse for the crimes he committed in the name of the Third Reich. 
Many banners held by demonstrators read "I do not regret anything" – the famous words uttered by Hess just before his sentencing. 
In stark contrast to the events in Charlottesville, demonstrators in Berlin were allowed to move through the streets only if they adhered to strict laws created to deal with events such as this. 
Read more: White Nationalist rally goes terribly wrong
Ad. Article continues below.
The rules for each protest will differ depending on the specific circumstances, but for the march on August 19, reports state that demonstrators were not allowed to play marching music, and could only carry one banner for every 50 people. Every 25th person in the march could carry an imperial German flag but everyone was forbidden from donning Nazi regalia, displaying a swastika, or voicing any openly anti-Semitic chants. 
Read more: Donald Trump laments removal of Confederate statues
"Anything intimidating is 'verboten'," Sven Richwin, a Berlin lawyer, said to the Associated Press.
This meant that any weapons, like those carried in Charlottesville, were out of the question for these demonstrators. If police intervention were required, attempts would be made to "detain specific individuals" rather than disrupting the rally entirely. 
Read more: Controversial Trump advisor Steve Bannon exits the White House
A counter-protest was also registered, with many reportedly holding up signs of protest as the neo-Nazis walked past. Those who reside in buildings along the demonstrators' path played loud music from their balconies, including Michael Jackson's song Black or White, according to CNN. 
Do you think this is how every protest should be regulated?