Barnaby Joyce won't be stand-in PM, as embattled pollie takes leave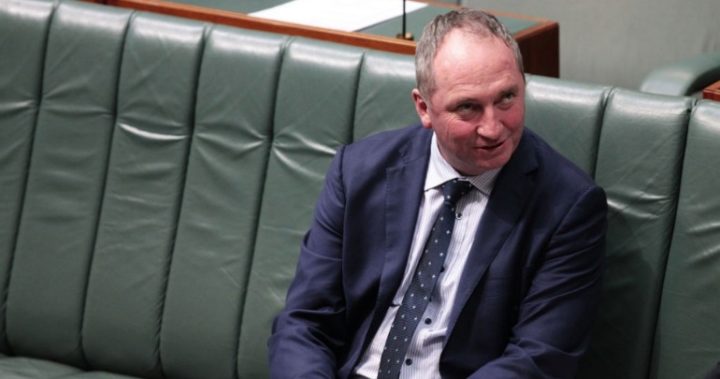 Malcolm Turnbull has announced that Barnaby Joyce will not be standing in for him as prime minister when he's out of the country next week, but will take personal leave instead.
Deputy PM Joyce was set to stand in for Turnbull when the PM visits Washington DC next week, but Turnbull told parliament on Thursday afternoon that that was no longer happening, and confirmed that Joyce's request for leave had been approved.
Joyce will be off from February 19-25, meaning his official leave will begin next Monday. Nine News reports that Finance Minister Mathias Cormann will be acting prime minister during the period. He is currently the government leader in the Senate.
The Labor party has asked if the PM's decision meant that Joyce wasn't able to do his job properly. "Are we simply meant to believe it is all a big coincidence?" Labor leader Bill Shorten asked in parliament. 
Joyce, under fire over an alleged affair he conducted with his media adviser Vikki Campion, has denied any wrongdoing, amid accusations he may have misused public funds when helping his supposed mistress win two jobs with other members of parliament. Joyce's relationship with his former adviser hit the headlines last Wednesday when the Daily Telegraph published a picture of a pregnant Campion and claimed the pair were now living together and expecting a baby.
Ad. Article continues below.
Reports have hinted heavily that Joyce and Campion's relationship started as far back as April 2017, while he was still married to his wife of 24 years, Natalia. Joyce, however, said that the pair were not a couple when Campion moved from his office to that of fellow Nationals MPs Matt Canavan. And while not denying that the pair were indeed a couple when Campion was moved again from Canavan's office to that of MP Damian Drum's office, Joyce noted that Drum wasn't a minister at the time – which meant, effectively, Drum was not subject to the ministerial code of conduct that prevents politicians from giving jobs to their partners or family members.
Prime Minister Malcolm Turnbull used the fact that Joyce and Campion weren't officially a couple to pardon Joyce of having breached those same ministerial rules when he allegedly helped the former journalist obtain the sweet media adviser jobs.
Campion, who is no longer employed by the government, is due to give birth in April. Joyce announced in December that he had separated from his wife.
Talk of the minister-adviser relationship, and questions over whether there were other rule breaches due to the taxpayer-funded travel Joyce undertook with Campion, has consumed the government's time over the past week.
Joyce has also been slammed by some for accepting accommodation from a millionaire pal after his separation from Natalie, with whom he has four daughters. And while many voters have defended the Nationals leader, saying that his private life has no bearing on his fitness for public office, others have said that his judgment and values are pertinent to his representation of voters, particularly given that he appeared to have used his family's wholesome image for political gain.
Joyce, a staunch opponent of same-sex marriage, campaigned against the historic legal change last year in part on the grounds that it undermined the sanctity of marriage.
Is it right for Barnaby Joyce to step down as leader of the Nationals and deputy PM? Or is this all a storm in a teacup over a personal matter?