Barnaby Joyce booted from parliament following citizenship scandal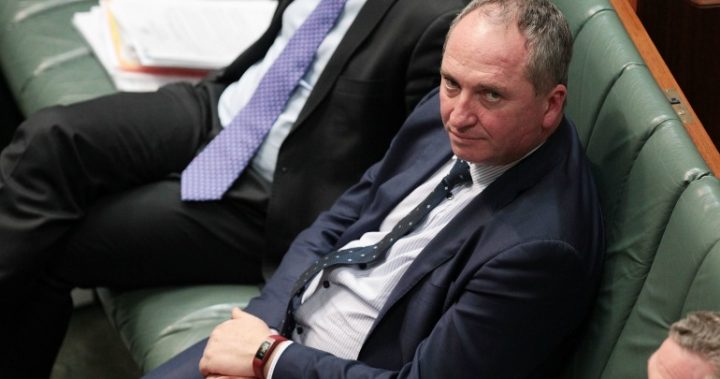 The verdict is in for the Citizenship Seven: Barnaby Joyce, Scott Ludlam, Larissa Waters and Fiona Nash have been disqualified, while Nick Xenophon and Matt Canavan are safe.
Joyce, who was still serving as deputy prime minister after revealing that he held dual Australian-New Zealand citizenship, but he will now face a by-election in his New South Wales seat of New England.
"It's a pretty simple story," Joyce told the press. "We're off to a by-election and I put myself forward for the people of New England as their candidate. Love me or hate me, I think I work pretty hard and I thank you so much for your support you've given me and I'll return it in spades as I continue on my work for this great electorate." 
This election would be held, at the earliest, on December 2. 
Read more: Greens senator Scott Ludlam resigns over citizenship error 
Ad. Article continues below.
The Australian constitution states that a person can be disqualified from Parliament if they are "under any acknowledgement of allegiance, obedience, or adherence to a foreign power, or [are] a subject or a citizen or entitled to the rights or privileges of a subject or a citizen of a foreign power".
Seven politicians were caught out earlier this year, starting with Scott Ludlam (who also holds dual Australia-New Zealand citizenship) on July 14.
Joyce's dual citizenship stems from his father, who was born in New Zealand. Questions surrounding Joyce's citizenship already had the Turnbull government's one-seat majority on shaky ground, but this ruling on his ineligibility will throw the effects into sharper relief. 
Read more: Dual citizenship drama claims another victim
"I had no reason to believe I was a citizen of any other country but Australia," Joyce said. "I was born just there. Just there. I grew up over there. And I served in our nation's Defence Forces. Had no reason to believe I was anything but Australian." 
Ad. Article continues below.
Joyce apologised to voters for putting them through the by-election process, but says he respects the verdict of the court. 
"We live in a marvellous democracy, with all the checks and balances they have given us all the freedoms we see. I thank the court for their deliberations." 
Read more: Barnaby Joyce latest MP to be caught up in a dual citizenship bungle
Matt Canavan, another LNP senator, has not been disqualified. This may have been because Canavan had a reasonable excuse for not disclosing his dual citizenship; his mother "registered herself as an Italian citizen living abroad, listing Senator Canavan as one of her children". In declaring herself an Italian citizen, she passed her citizenship on to her son without his knowledge and never made him aware of the fact. 
"I had no knowledge that I had become an Italian citizen, nor had I requested to become an Italian citizen. Following the resignation of [former] senators Ludlam and Waters last week, my mother raised with me the possibility that I was, in fact, an Italian citizen on Tuesday evening."
Ad. Article continues below.
Read more: Another MP resigns over dual citizenship mishap
Fiona Nash (National Party of Australia), Scott Ludlam and Larissa Waters (Greens) were disqualified, but Waters had previously said she was committed to recontesting the seat. 
"I said when I resigned that I felt I was leaving a lot of unfinished business, and after a couple of weeks of personal reflection, I have decided that I will put my hand up to recontest the seat," Waters said. Since resigning, Waters has given up her Canadian dual citizenship, so while it has been ruled that her previous election was not valid, she should be able to run again. 
Independent Nick Xenophon's election has been declared valid, though he had already resigned from the senate and decided to run for state parliament. Xenophon's validation has been put down to the work of his barrister, senior counsel Tokley, who "did an outstanding job of showing that the British 'citizenship' that Xenophon inherited from his Cypriot father was a Claytons citizenship that gave him no real rights – not even the right to enter the United Kingdom – so in fact … he wasn't a dual citizen" according to a Huffington Post article. 
Read more: Greens senator won't be deterred by dual citizenship bungle
Ad. Article continues below.
In a press conference following the announcement, Joyce joked that he'd happily swap places with Xenophon.
"Well Nick, he got back but he still wants to go. So I don't know how you'd deal with that. But anyway, Nick, do you want to swap, mate?" Joyce said. 
.@Barnaby_Joyce asks @Nick_Xenophon if he wants to trade places, seeing as he is leaving federal parliament. MORE: https://t.co/6Iop0LH7gp pic.twitter.com/pP9srxJTkT

— Sky News Australia (@SkyNewsAust) October 27, 2017
The implications of the Citizenship Seven's respective verdicts will no doubt become clearer over the coming hours and days, as they line up for their press conferences and decide, in consultation with their political parties, how best to manage the outcome. 
What do you think of the various decisions?