Police officer branded 'the Grinch' for shutting down light display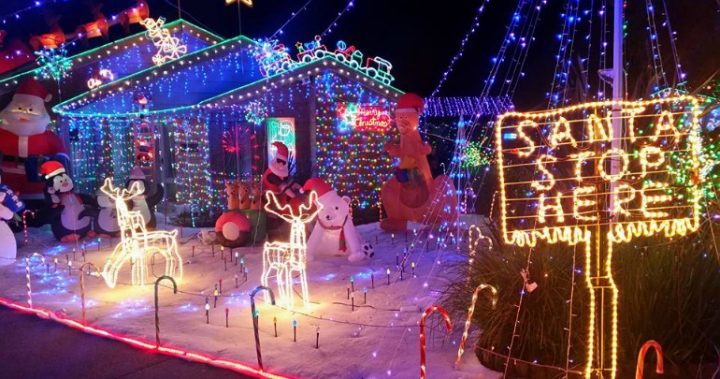 Angry neighbours have branded a police officer "The Grinch" after she shut down their suburban light display – because it was attracting too many people.
Residents of the 10 homes in the small south-east Melbourne cul-de-sac light up their houses each year, before inviting people from the surrounding area to come and look at the impressive display.
But while they can often have up to 500 visitors a night, not everyone was impressed on Wednesday evening.
A police officer ended up storming through the street, before demanding the lights all be turned off around 10.30pm – as there was too much traffic in the area.
Ad. Article continues below.
The Hugo Court residents all contribute to their own community Facebook page, and a status posted shortly after read: "Sorry to anyone who missed the lights last night, we were shut down by an extremely grumpy and rude police officer.
Read more: These 'do-gooders' are being accused of killing Christmas tradition
"Apparently you can't have Christmas lights after 9.30 at night, pity they are best in the dark and it doesn't get dark until around 9.30.
"Back on again tonight but as per my previous posts, please be mindful of our neighbours in surrounding streets. MERRY CHRISTMAS."
Ad. Article continues below.
Each year neighbours share photos of their houses lit up from floor to ceiling, with the entire cul-de-sac getting in on the act.
The Facebook page gives fans updates on when to visit and how to get there – but people were sent home short this week.
"I woke up to someone bashing on my window next to my front door," father-of-three Mark Morrison told the Mail Online.
"I thought it was going to smash they were bashing that hard on it – all the lights were on outside and there were still people wandering around."
Ad. Article continues below.
Read more: Town rallies behind their postie's Christmas spirit
He said he was told to turn the lights off as they were causing traffic "chaos" down the road.
Morrison claims he was asked if he had a council permit, before the officer went from house to house telling neighbours to do the same.
While many people hit out at the interruption, branding the officer "The Grinch", others insisted they were just "doing their job" and pointed out how traffic was an ongoing issue in the area.
A police spokeswoman confirmed to the site that officers attended the street about 10.50pm due to "ongoing traffic issues".
They added: "Residents were asked to turn off the Christmas light displays to assist in clearing the gridlock caused by the amount of vehicles at the location due to safety concerns."
Do you think the police officer went too far? Do you like seeing neighbours' light displays at Christmas?