Phillip Hughes' family storm out of inquest after hearing testimony from players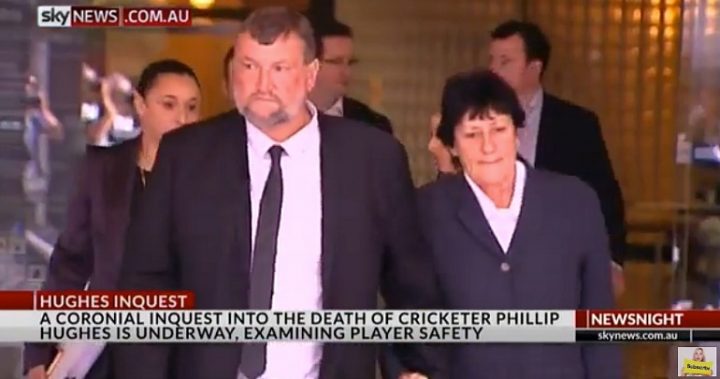 The family of cricket player Phillip Hughes have angrily stormed out of the inquest into his 2014 death, making their feelings about the case clear.
Phillip died after being struck by a cricket ball during a Sheffield Shield match that saw him receive nine short-pitched bowls in a row.
The inquest heard testimony from players who denied claims of sledging and dangerous tactics.
There were reports that fielder Doug Bollinger had told Phillip and his batting partner Tom Cooper, "I'm going to kill you" in the period leading up to the fatal blow, but Bollinger has sine denied the claims.
It was comments by Cricket Australia lawyer Bruce Hodgkinson that really infuriated the Hughes family though.
Ad. Article continues below.
Phillip's parents Greg and Virginia got up and walked out after Mr Hodgkinson delivered his final remarks saying that all player's testimony had been honest, clearly in disbelief over the claim.
Their family lawyer Greg Melick said there was no way the aggressive bowling style on the day did not contribute to the ball that hit Phillip and said outright that it "increased the risk of injury to Phillip".
He said the family also believed sledging occurred on the day, and the fact that every player who testified denied it "must cast serious doubts over other evidence".
Phillip's brother Jason said he was told by Tom Cooper and fellow player Matthew Day that there had been sledging on the day, making the family question why they were now denying it.
Whatever the outcome of the inquest, the sad fact remains that the Hughes family lost a son and a brother that day and still trying to deal with it.
What do you think of the inquest? Do you have a message of support for the Hughes family?