Peter Dutton's water levels joke slammed by Pacific Island president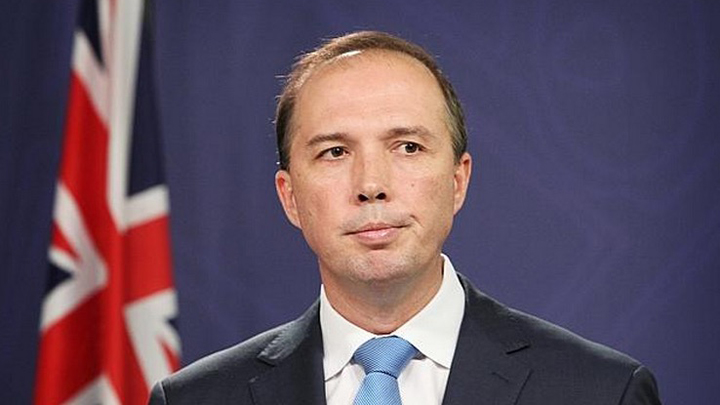 It was the talk of the town yesterday when Peter Dutton's remark about water levels in the Pacific was revealed.
The badly-timed 'joke' has had some calling for his resignation or at least an apology from the PM. When asked about his comments yesterday, Mr Dutton had little to say except "I had a private conversation with the Prime Minister", the ABC reports.
What Mr Dutton said was considered out of line as Tony Abbott had just come back from the Pacific Islands and discussions with leaders.
Mr Dutton made small talk with the PM about a meeting running late and quipped that it was running to "Cape York time", to which Mr Abbott replied: "We had a bit of that up in Port Moresby."
Mr Dutton then said, "Time doesn't mean anything when you're about to have water lapping at your door".
Ad. Article continues below.
They both laughed before Scott Morrison pointed out a microphone had recorded every word.
Since the incident, many have had a lot to say about the controversial Immigration Minister, including the president of Kiribati, an island in the Pacific. He said Peter Dutton was morally irresponsible for making a "vulgar" joke about rising sea levels in his region.
President Anote Tong said Mr Dutton has "got to search his own soul", reports 9News.
"What kind of a person is he? As long as there is this kind of attitude, this kind of arrogance in any position of leadership, we will continue to have a lot of tension," he said.
"It shows a sense of moral irresponsibility quite unbecoming of leadership in any capacity".
Ad. Article continues below.
Opposition Leader Bill Shorten criticised both the PM and Mr Dutton over the poorly-timed joke.
"It was a bad joke by a minister who is a bad joke," Mr Shorten said.
"But the fact that the Prime Minister is laughing along with it reminds me of what Barack Obama said: any leader who doesn't take climate change seriously is not fit to lead".
Greens senator Larissa Waters also offered her opinion, saying, "I think our regional neighbours are going to be utterly horrified at the disdain that our Prime Minister has shown them, and I would want to reassure them that Australians don't have that same sentiment".
And the voting public also shared their two cents, showing that no one was laughing with Mr Dutton, and referring to the gaffe as #boomgate:
Ad. Article continues below.
Sad commentary on #Australia that #boomgate commentary all about #climatechange. Scant mention of the #racism of capeyorktime.

— Nareen Young (@nareenyoung) September 11, 2015
Is this thing on? Peter Dutton and the dangers of live microphones, @mikeclay covers #boomgate on #NX next #auspol pic.twitter.com/JS23FDfEzR — ABC News 24 (@ABCNews24) September 11, 2015
So one day after talking to Pacific Islanders about sea levels, we have #boomgate. What are they saying in private about Syrian refugees?

— Substandard & Poor (@64AnthonyP) September 11, 2015