Peta Credlin can't hide her smile as she slams Malcolm Turnbull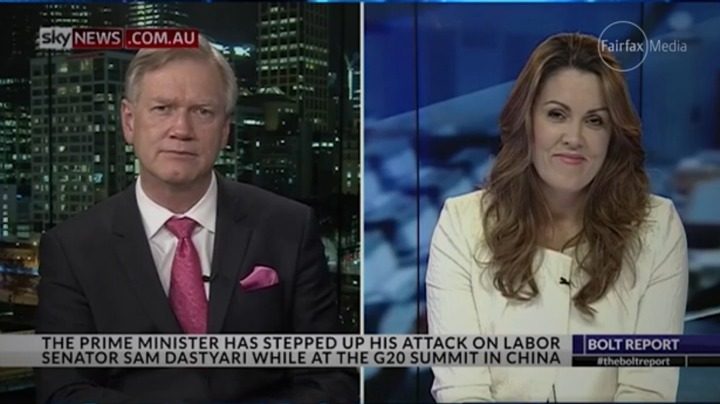 Ouch. Peta Credlin has panned Malcolm Turnbull live on air overnight during a cross with Sky news host Andrew Bolt.
As Tony Abbott's Chief of Staff Credlin has made no secret of her distaste for the current PM and she certainly didn't mince her words last night -in fact she didn't say much at all.
When asked by Bolt to nominate a single policy achievement of the Turnbull government after almost one year in office Peta sat there in silence with small smile on her face.
After a few seconds passed she said with a smirk: "Well, by the skin of his teeth he didn't lose to Bill Shorten."
An Abbott supporter himself, Bolt then feigned frustration and asked again.
Ad. Article continues below.
"Peta Credlin, I'm talking about something for the benefit of the Australian people, a policy. Silence?"
"Oh look, Andrew, I'm pressed," Credlin said. "Um, they signed the free trade agreement. They didn't negotiate it, that was done before."
"No, c'mon," Bolt hit back softly, "that's a piece of paper. I can sign it. Give it to me, I'll sign it, that's easy. No. An achievement?"
Five seconds passed.
"Ahh, as I said, he stopped the country being run by Bill Shorten," Credlin responded still smiling. "That's the best I can do at the moment."
Ad. Article continues below.
Bolt then said he would generously give her until next week to come up with something.
"We'll, that's a challenge," Credlin said. "Thank you for the whole week."
While some viewers laughed along and said the pair were spot on, others said the segment was just a chance for the pair to advertise their own political preferences.
Do you agree with Peta Credlin? What do you think Malcolm Turnbull's biggest achievement is so far? Does he have one?