Pauline Hanson's manifesto an instant hit with supporters
Following her announcement over the weekend that she will run for the Senate at the Federal Election in 2016, Pauline Hanson has released the One Nation manifesto on Faecbook, gathering more than 18,000 likes and 25,000 shares in less than 24 hours.
Ms Hanson has declared she will seek to stop mosques, Sharia law and Muslim refugees, and Halal certification if elected at the next Federal election.
"A vote for me at the next Federal Election will be your insurance, the major parties will have absolute opposition to any more Mosques, Sharia Law, Halal Certification & Muslim Refugees. NO MORE!" she wrote on the Pauline Hanson Pease Explain Facebook page, along with this image: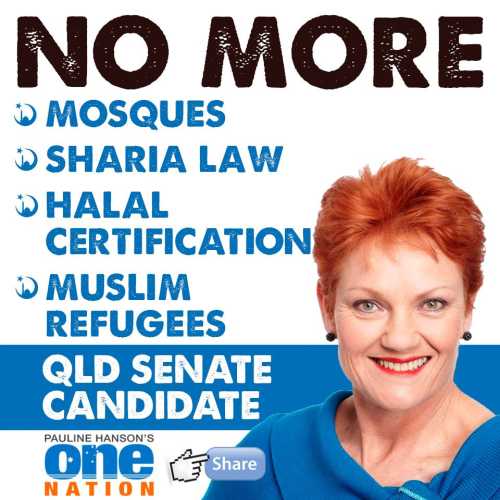 Ms Hanson told Daily Mail Australia, "Over a million people have seen it (the manifesto) and it's the way Australians are feeling, it's commonplace, it's the way Australians feel."
She added that it was not just the shooting of Curtis Cheng in Parramatta that sparked her slogan.
Ad. Article continues below.
"There's been quite a few, including the stabbing (last year) of the police officers (by Melbourne teenager Numan Haider) and I cannot see the government doing anything to eradicate it,' she said.
"The kit they are putting in the schools about identifying those who could be radicalised is not going to work, I fear for teachers' safety.
"I want a royal commission into Islam, we have a right as Australians to have peace of mind".
Ms Hanson says her decision to return to politics was prompted by her disappointment at the current crop of politicians.
"I'm very disillusioned by it and I honestly believe I can make a difference. I'm sick and tired of all the corruption and lies and there is too much interest in overseas interest.
Ad. Article continues below.
"We have got too many gutless politicians who are backing away from having this debate, because they are worried about their seats particularly in western suburbs of Sydney where they are dominated by Muslims.
"I'm up against a system and all political parties preference me last because I am the last person they want there in parliament, it's going to be hard but I am getting a lot of support."
As you can see in the Facebook post below, comments are varied, but are largely supportive of the manifesto.
Ad. Article continues below.
What do you make of Pauline Hanson's manifesto? Does it surprise you she has this level of support? Do you think she'll make it to the Senate?