Pauline Hanson's latest push for change is dividing even her biggest fans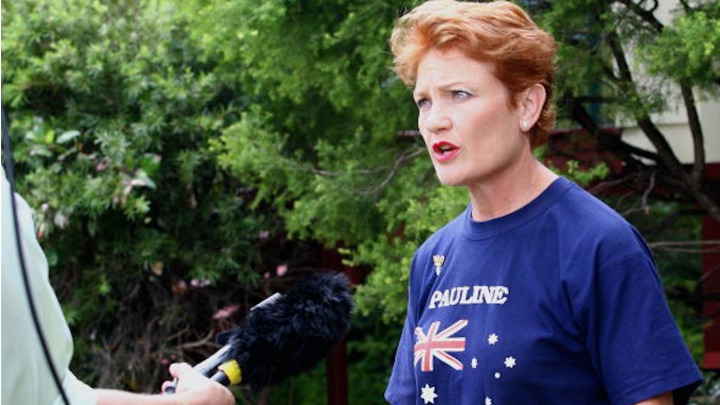 One Nation leader Pauline Hanson has confirmed she will back proposed changes to stop workers receiving a significant chunk of their parental leave payments.
The controversial move was introduced as part of Joe Hockey's ill-received final budget and would see workers denied parental leave payments from their employer on top of the money they are already getting from the government.
As it stands, new parents are eligible for an 18-week, $12,100 entitlement from the government. They can also receive additional parental leave payments from their employer if it is part of their contract.
Ms Hanson says this creates a culture of "double dipping" where parents are taking money from both buckets.
"No one wants double-dipping. If you're getting a payment, you're getting looked after, fine; one only. I don't believe in this double-dipping," she told the Seven Network.
Ad. Article continues below.
She also said businesses were "screaming out" because they couldn't afford to to pay workers' benefits.
"We actually have to pull the budget back. We can't keep affording this and people want a hand-out all the time."
However, while many support Ms Hanson's idea, others say she is taking away money new parents and young families need to survive.
Jenny Macklin, the opposition social services spokeswoman, said the government's paid parental leave scheme is designed to include top up payments from employers and that the government money alone isn't enough to fund young parents.
"Some of the employer schemes are very modest and of course they're paid at the person's wage and the vast majority of young women having babies, they're not getting paid exorbitant wages; most of them, who are working in retail for example, are on very modest wages and those are the people who will be very hard hit," Ms Macklin told ABC radio.
Ad. Article continues below.
"The government is taking $1 billion out of the pockets of new mothers, so this new measure is … going to hurt low and middle-income women."
Of cause many baby boomer parents know just how tough it was thirty or forty years ago to find the money to raise a family and many are watching their children go through the same thing know.
While have have said they back Ms Hanson's opinion, others say we need to do all we can to help young parents make ends meet.
What do you think? Should we cut paid parental leave to just one payment? Or do young parents need this money to survive?