Pauline Hanson wants you to do this before you enter a relationship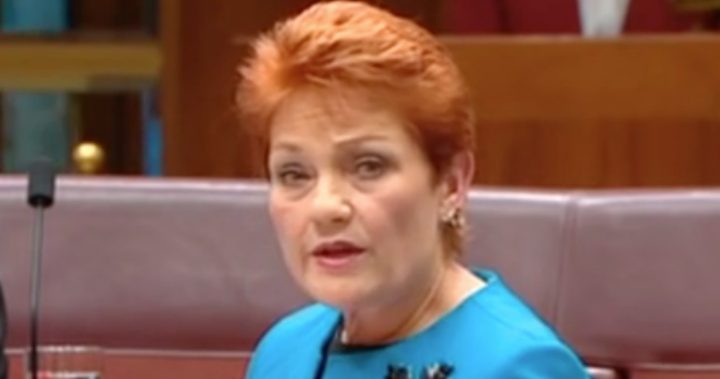 Whether you agree with her or disagree with her, there's no denying Pauline Hanson has some strong (and sometimes controversial) opinions.
But if you thought her views on issues such as Islam were controversial, wait until you hear the latest issue she's spoken about.
As you would know, Hanson has some strong views about family law.
AAP reports that Pauline Hanson has opened up about her blueprint for Australia, and family law is high on the agenda.
But it's what she wants all couples to do that's bound to have people talking.
Ad. Article continues below.
The One Nation leader wants all couples in Australia to sign a pre-nuptial agreement before they enter a relationship or marry so they can work out how to deal with their children and assets if their relationship breaks down.
She said that family law needs "a complete overhaul".
"It needs court-approved premarital agreements on finance and parental issues," Hanson is quoted by the Australian.
"So before someone goes into a relationship or a marriage, you must have a premarital agreement. It would be confidential (and lodged with courts).
"We've got to free up our court system. It's overloaded. A lot of judgments aren't being handed down for years."
Ad. Article continues below.
While some of us have probably signed pre-nups before getting married, it's not exactly something that everyone does.
And it brings up the bigger question, when we get married, should we even be thinking about divorce?
Do we think about the end of our relationship when it begins?
Hanson also spoke about her success, stating that people see her as "their sister, their mother, their neighbour next door".
"They don't see me as a career politician … They've seen me running a small business, rearing kids by myself. They see this person, I've had knockdowns, I've been in prison, I've come out of there and guess what? They haven't beaten me, I've got up again. They can throw everything at me and I'll still keep doing what I believe in," she said.
Ad. Article continues below.
"I don't change my tune, whichever way the polls are going. If you look at what I said 20 years ago, it's exactly what I'm saying today. I'm a type of person who can make a decision. The past makes you more aware of what not to do in the future."
What do you think of Pauline Hanson's views on pre-nups? Should a couple be forced to sign a pre-nup before they get married?