Pauline Hanson supporters pull 'sick prank' at church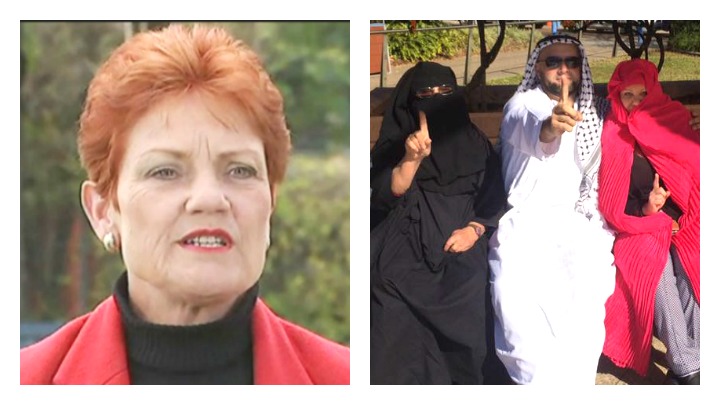 One of Australia's most prominent far-right groups have left churchgoers shocked and upset after pulling at prank at their Sunday service.
A group of men and women from the Party for Freedom – an anti-immigration and anti-Islam group – stormed into the Gosford church on Sunday dressed in burqas and mock Muslim attire and started pretending to pray on mats while blasting music.
The group uploaded a video of the incident to their Facebook page where they can be heard speaking sarcastically of the "rich tapestry of Islam", claiming "the western world is living in denial".

Father Rod Bower who was giving the service at the time said people were left "deeply traumatised" by the event.
"Using a loud speaker starting to abuse me in particular for the work we do … they violated our sacred space," Father Bower told Fairfax.
Ad. Article continues below.
"It was typical rhetoric from the extreme right, vilifying Muslims and multiculturalism as a whole.
"[They said] Muslims are taking over, they had some prayer mats and mock prayed, they had a recording of the Koran being sung."
Later, the group from the Party for Freedom uploaded the video saying, "We just went into Father Rod Bowers' church and let him know we're not happy with his … nonsense about sponsoring Islam and multiculturalism."
The Gosford church is known for accepting people from all faiths and walks of life and has been a prominent supporter of refugees and the closing of Nauru.
Ad. Article continues below.
While Pauline Hanson does not have a direct link with the Party for Freedom herself, the group uses her picture as their Facebook profile photo and supports her anti-immigration policy.
The group has previously found a lot of support throughout the country, but is now receiving huge backlash over the prank with people saying they went too far by interrupting a sacred space.
"What a bunch of pathetic little snivelling morons!" wrote one person on their Facebook page.
"You are all disgusting pigs," said another.
Do you think this is one step too far? Should people face consequences for pranks like this or are they just exercising their right to free speech?