Pauline Hanson slams group for anti-Islam church stunt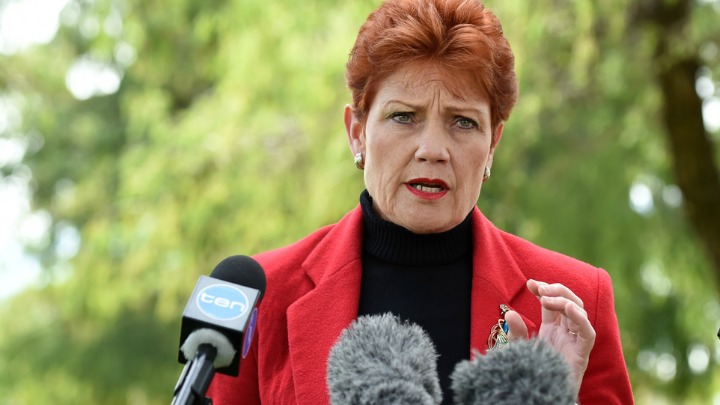 One Nation Senator Pauline Hanson has distanced herself from an anti-Islam group which disrupted an Anglican church service, and has compared her situation to that suffered by the Muslim community after the Lindt cafe siege.
Senator Hanson features in many images on the group's website and Facebook pages, but she has made a statement that One Nation had no official affiliation with the Party For Freedom, and that it was "uncalled for" to blame her party or herself for the anti-Islam group's actions.
She said the group's action was "counterproductive in the serious argument One Nation are calling for. Let's have a proper debate as a community and leave the satire out of it."
A statement issued on behalf of One Nation said the party did not condone any violence.
"However if these concerns are not addressed, we believe that there may come a time where there is civil unrest on our streets," it said.
Ad. Article continues below.
The party also stated the church was most likely targeted due to its support for refugees and Muslims.
Father Rod Bower, who was giving the service at the time of the incident, had said people were left "deeply traumatised" by the event.
Parishioner Peter Merrick said his wife had to comfort others who were crying. "The average age is about 70. My wife comforted many of the distressed," Mr Merrick explained.
Opposition Leader Bill Shorten has also slammed the stunt, saying those involved were "way out of line".
Mr Shorten told reporters in Brisbane "it seems to me that some of these people don't seem to like any religion".
"Imagine gatecrashing a Christian service to make a point about other political points of view," he said. "I don't agree with what they did there. This country needs to be tolerant of people's religious practices and — this group were way out of line staging a protest in a Christian church."
Share your thoughts below.