Pauline Hanson says media should focus on pensioners, not her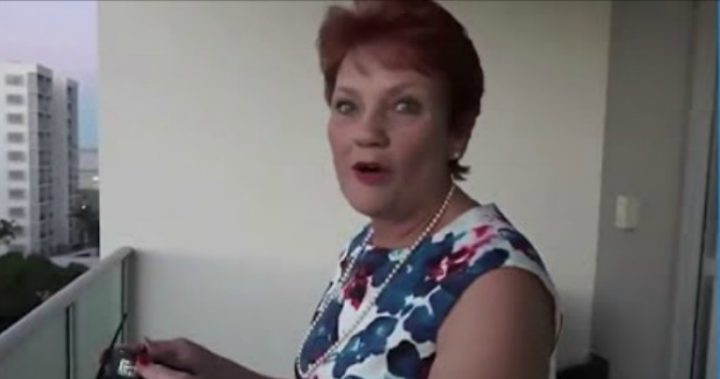 Pauline Hanson has had some fun doing what many people do recreationally these days, and unwittingly drawn the attention of authorities in doing so. 
The Queensland Senator posted footage of herself on her Twitter account flying a drone from a balcony over a Townsville street, which may actually be in breach of civil aviation laws.
"Oh golly, as long as I keep it under 400 foot I'm right," Hanson says in the video. But that might not be all there is to it. 
Last year the Civil Aviation Safety Authority (CASA) relaxed laws around privately operated drones, meaning that owners of drones under 2kg can fly them without a need for a licence.
However, it must be operated in conditions which allow it to remain in the visual line of sight of the operator, may not be flown in heavily populated areas – a crowded beach for example – and must be kept at least 30 metres from other people. 
Ad. Article continues below.
Read more: Is the sanctity of the Aussie backyard under threat?
THE DRONE! | Pauline Hanson takes a drone for a spin before heading off to meet @PMOnAir for Paul Murray Live in #TOWNSVILLE #auspol #qldpol pic.twitter.com/EE1WrNlmq3

— Pauline Hanson (@PaulineHansonOz) July 5, 2017
The Civil Aviation Safety Authority (CASA) are now investigating the video. 
CASA spokesman Peter Gibson told ABC News that they would be seeking an explanation from Hanson, but it isn't yet clear whether she broke any rules. 
Ad. Article continues below.
"It is too early to say if any safety rules may have been breached," Gibson said.
"You must fly recreational drones more than 30 metres from people, not over crowds or groups of people, not cause a hazard to people, property or aircraft and stay under 400 feet in controlled airspace."
Read more: Aussie kids are pathetic and badly behaved: Pauline Hanson
Hanson has denied any wrongdoing in an interview with radio station 2GB, saying that she "ticked all the boxes" when she flew the drone. 
"Throw the cuffs on me, take me away, drag me away, I've been there done that, it's nothing new for me," she said.
Ad. Article continues below.
"I don't need a fine, I don't want a fine.
"It was not anywhere near a public place, it was not over a public field, it was not within 30 metres of anyone, it was over gravel, there was no danger to anyone, it was not near an airport."
She has brought her politics into it on Twitter, claiming that media care more about the drone than pensioners. 
#BREAKING Mainstream media LOVE DRONE but don't seem to care about freezing pensioners, dying businesses or horror electricity costs #auspol

— Pauline Hanson (@PaulineHansonOz) July 6, 2017
What do you think of the drone fiasco? Is she right?