Pauline Hanson rips into Government after airport bomb scare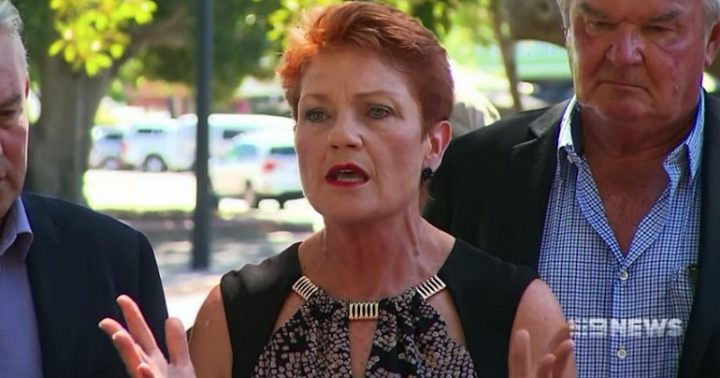 One Nation leader Pauline Hanson has lashed out at the major parties over the cost of increased security measures at airports around the country following a thwarted terrorist attack at the weekend.
Hanson wrote on her Facebook page that Labor and the Coalition should be "embarrassed" by the situation and claimed "Islam is having a massive impact on the way we go about our lives".
Her comments echo One Nation's previous calls to ban Muslim immigration to Australia.
She also compared concrete bollards placed around the major cities as protective measures to chunks of the Berlin Wall.
"The truth is, Islam is having a massive impact on the way we go about our lives," she wrote on Facebook.
Ad. Article continues below.
"From slabs of concrete in our main streets that eerily resemble the first signs of the Berlin Wall being erected in 1961 – albeit the barbed wire.
"We now have Police carrying machine guns at the entry to Parliament House and the Prime Minister has warned that 2 hour waits at airports is the new norm, due to increased security measures."
Airports beefed up security following news of the planned terror attack, with extra screening measures and checks in place.
Hanson claims the increased security is costing Aussie taxpayers millions everyday in lost productivity.
Ad. Article continues below.
"Over 58 million domestic passengers took to our skies last year," she continued in her post.
"That's 159,616 per day. Multiply that number of people by the average hourly rate of pay, and you'll find we're losing over $5.1 million in productivity every day, as a result of terror screening. Don't get me wrong, I'm not complaining about the steps taken to keep us safe.
"The average Australian is pleading with you Prime Minister – stop imposing billions of dollars of direct costs on taxpayers and start looking at the opportunity costs this country now must also face."
While her comments were met with support form some, others accused her of capitalising on the issue.
"I used to get a lot of good laughs from reading your nonsense but injecting fear into people and dividing them is a low low act," Michael Horne wrote in response to her post.
Ad. Article continues below.
"It's why society has become the way it is these days, because of leaders like yourself. I'm not saying don't have your opinion as a political leader I just think the way youre [SIC] getting your message across is shameful."
Read more: Let's Talk: Are you scared Australia could be the next 9/11?
What are your thoughts? Who do you agree with here?