Pauline Hanson reveals Tony Abbott is seeking her attention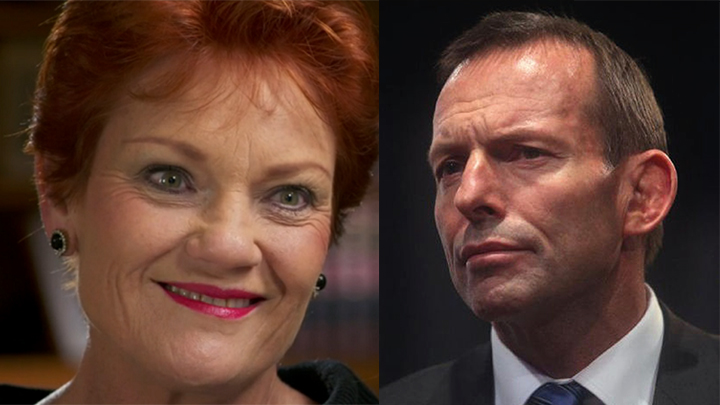 Pauline Hanson says she doesn't hate Tony Abbott.
The One Nation Senator has revealed the former Prime Minister — who was involved in the push to end her earlier political career — asked to have a coffee following her return to federal parliament at the July 2 poll.
In an interview with 60 Minutes that aired last night, Ms Hanson revealed Mr Abbott, the man she accused of helping to raise money to fund the legal case against her that saw her briefly jailed in 2003 for electoral fraud before her conviction was overturned, reached out to her.
"Tony has already offered to have a coffee with me," she told 60 Minutes. "And I said, 'I'd love to'."
While she agreed to a coffee — yet to take place — the senator-elect said all was not forgiven.
Ad. Article continues below.
"Don't forget, I'm like a bloody old elephant and I don't forget but the whole fact is he has a job to do, I have a job to do," Ms Hanson said.
"I'm not a vindictive person. I'm there to do work for the people."
Ms Hanson was quizzed about her views on Muslims as well as the 1996 60 Minutes interview in which she was asked whether she was xenophobic and replied: "Please explain".
She denied her views were racist or hateful and said she did not believe she was xenophobic. "I don't hate Asians. I don't hate Muslims," Ms Hanson said. "What I'd like to see is … these Muslims that are not the radicals, the ones that want to live their life in peace and harmony and (are) quite happy to be here in Australia and love and embrace this nation, then work with me to find answers."
The senator, who was visibly emotional as she spoke outside Parliament House in the episode, is already attending private meetings with some of Australia's most powerful politicians.
Ad. Article continues below.
After spending an hour in one-on-one talks with Malcolm Turnbull, she said she "respected" the Prime Minister. "He was very gracious, and spoke to me about … Well, I did most of the talking!"
And Mr Turnbull isn't the only prominent figure courting Ms Hanson.
Deputy Prime Minister Barnaby Joyce has thrown his support behind the Queensland Liberal National Party's plans to preference One Nation ahead of Labor and the Greens at the next state election.
Her daughter Lee told the program it had been "challenging" at times to be the child of the controversial figure in political life.
"I had a death threat against myself, so that was bizarre," she said. "I was 13."
Ad. Article continues below.
But Ms Hanson is convinced she has a job to do.
"What I would say to the Australian people is that I will always try to be upfront, honest and accountable to them. People need hope. And if you've got hope, then you can actually say … Give them that confidence to say, "At least someone's there, thinking about us. I hope they just give me a fair go." Judge me on my performance and my achievements. I'm not perfect. I've never claimed to be perfect. But if anyone wants to criticise me, then at the next election, put your name forward. You have every right to stand for parliament. And I'd like to see what sort of job you do."
What do you think about Pauline Hanson? Do you think her views have changed since she's gotten into Parliament, or that she's stuck to her guns?