Pauline Hanson defends Trump's comments about women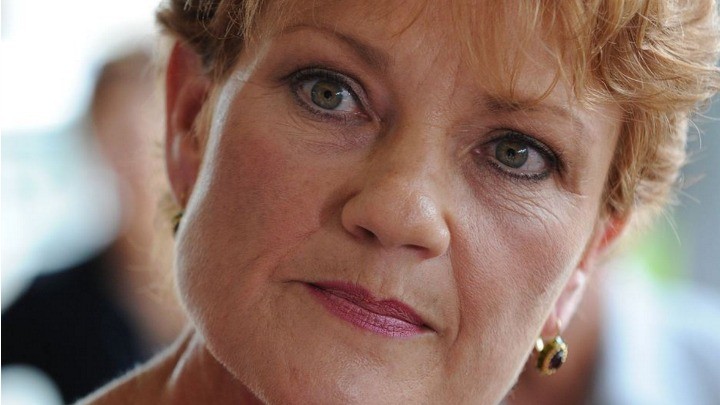 If you missed Sunrise this morning, you missed a fiery exchange between Pauline Hanson and Derryn Hinch about Donald Trump.
Hanson started by saying she did not support Trump's "vulgar" comments.
But then she went on to defend what he said.
"It was said not on camera, it was said behind the scenes, and it was a tape recording," she said.
"Now let's be honest about it, there's a lot of men out there that say horrific things, probably up to the same standard.
Ad. Article continues below.
"What is happening in America is that people have had enough, they've had a gutful of the major political parties, their country is going down the tube, there's no work, there's problems in the country.
"It is up to the people now: will they overlook these comments that were said in private … or will they say, no, that he may be different man?"
If you missed the segment, Derryn Hinch interjected, with a strong "No Pauline!"
"A normal man in a private conversation would not talk about this," he said.
"A normal man, Pauline, would never consider invading a woman's space so much…That is sexual assault!"
Ad. Article continues below.
But, the clash of opinions didn't end there.
After the Sunrise interview, the pair had another fiery clash in a hallway in Parliament House over the issue.
The Sydney Morning Herald is reporting that Hinch followed Hanson to debate her "disgraceful" attitude.
"That you, as a woman, could even make any justification for what he has said and what he has done is just …," he said.
Ad. Article continues below.
Hanson responded by claiming she didn't condone what he said.
"No, you said the people of America will decide," Hinch replied.
"If you are even slightly right, then God help the country and God help the world. The man is a sexual predator and he is a disgrace."
If you missed what Trump said, in a 2005 recording he said "You know I'm automatically attracted to beautiful women — I just start kissing them. It's like a magnet. Just kiss. I don't even wait.…
"And when you're a star, they let you do it. You can do anything. … Grab them by the pussy. You can do anything."
Ad. Article continues below.
Read more: Melania Trump breaks her silence on her husband's comments about women
You might be wondering what the rest of Australia's politicians think?
Well, there's been no shortage of politicians having their two-cents on Donald Trump this morning.
Prime Minister Malcolm Turnbull has also slammed the Republican nominee's comments.
"They are loathsome and they deserve the absolutely universal condemnation that they've received," he said in a press conference.
Ad. Article continues below.
Deputy Prime Minister Barnaby Joyce described the comments as "unacceptable" but pointed out the comments were from 2005 when Trump was 59.
"It is 10 years ago. If he doesn't profusely apologise for his statements it's certainly not (an excuse)," Mr Joyce said on ABC radio.
"I just think this whole debate in the United States is turning into a dirty, filthy concoction which belies the respect the American people deserve.
"They're all digging up rubbish from each other's past and I just think the whole thing is pretty unsavoury."
But Liberal Democrat David Leyonhjelm has both defended and denounced Donald Trump, suggesting people "could cut him a little bit of slack".
Ad. Article continues below.
"Well, he is 70 years old and saying stuff – I mean, what he said was pretty distasteful, quite frankly – but saying stuff like that used to be a lot more common than it is these days," he said.
"He is a man of his times, perhaps. So perhaps you could cut him a little bit of slack. A lot of nasty things are said about men, too, incidentally."
Who do you side with on this one? Is Pauline Hanson right? Or was Derryn Hinch right to criticise her opinion?