Pauline Hanson cops criticism over Great Barrier Reef dive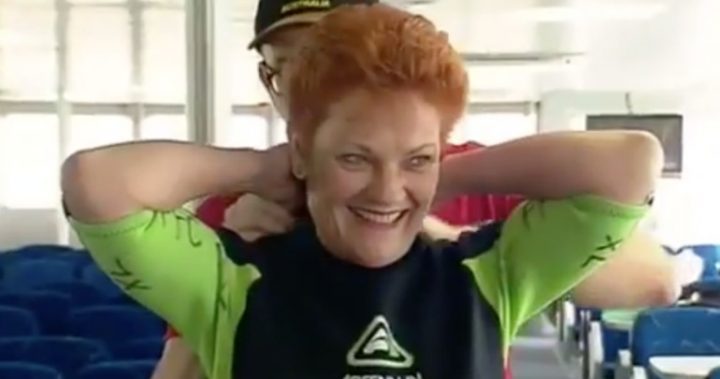 Pauline Hanson has decided to leave her suits behind and take a dive into the ocean to talk about another one of her passions.
The One Nation senator has dived off Great Keppel Island, near Rockhampton to dispute claims that coral bleaching was having its worst event in 2016.
Hanson spoke about how the publicity surrounding bleaching was negatively impacting on the tourism industry.
"Tourist operators like the Freedom Fast Cats have seen visitors to the Island drop from an average of 200 per day to under 20 as a result of lies being told about the Great Barrier Reef dying," she wrote on her Facebook page, Pauline Hanson's Please Explain.
"When domestic and international tourists are told by the Greens that the reef is dying, of course they don't want to turn up.
Ad. Article continues below.
"LET ME BE THE FIRST TO ASSURE YOU, THE GREAT BARRIER REEF IS ALIVE AND WELL! ESPECIALLY AROUND GREAT KEPPEL ISLAND."
She said she wasn't convinced global warming was to blame for any bleaching.
"We can't have these lies put across by people with their own agendas," she told the ABC.
"If you actually go deeper, 12-20 metres deeper in the ocean, the reefs there are in pristine condition.
"And they're growing all the time."
While many are supporting Hanson and saying it's good to see a politician out of their office and on the reef, some aren't so supportive.
Many environmentalists and conservationists have criticised Hanson and her One Nation senators for choosing a healthy section of the reef to dive in.
Ad. Article continues below.
The ABC reports that where Hanson dove is actually 1000km from a serious bleaching event near Lizard Island.
Australian Marine Conservation Society's Imogen Zethoven told the ABC she believed One Nation was in denial about the Great Barrier Reef. 
"I'd really ask her to get off the SS Ignorance and come back to shore," she said.
"Head up to Port Douglas or Lizard Island see what it really looks like right now and accept that climate change is real, it's having an effect on the reef."
A representative from WWF was also critical.
Ad. Article continues below.
WWF's Richard Leck told the ABC he believed One Nation was "on a voyage of climate change denial".
"I suggest to the senators that they actually get to a place that did bleach," he said.
What do you think? Is it fair for people to criticise Pauline Hanson? Or do you think it's good to see her out and about?