Pauline Hanson causes walkout during her first parliamentary speech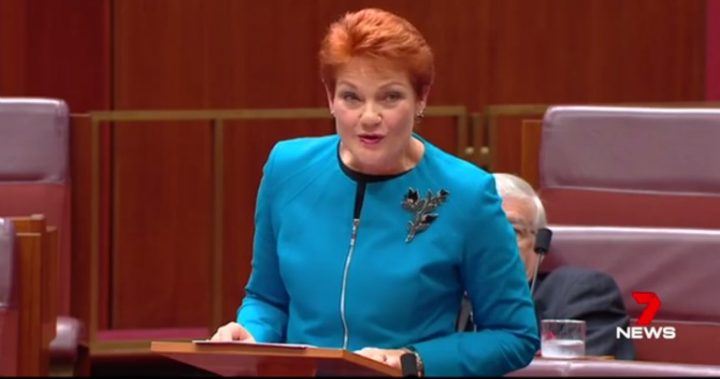 She's back and it seems she's just as controversial as ever with a number of politicians walking out on Pauline Hanson during her parliamentary speech last night.
Reiterating her 1996 speech, Ms Hanson said Australia was in danger of being swamped by Muslims – almost identical to what she said about Asians in the late nineties – and took aim at single mothers.
"If you are not prepared to become Australian and give our country your undivided loyalty … I suggest you go back to where you came from," she said.
"It's about belonging, respect and commitment to fight for Australia," she said.
"Australia had a national identity before federation and it had nothing to do with diversity and everything to do with belonging.
Ad. Article continues below.
"Indiscriminate and aggressive multiculturalism have caused crime to escalate and social cohesion to decline.
"Too many of us live in fear of terrorism.
"Muslims are prominent in organised crime, anti-social behaviour is rampant and … surveys find that in neighbourhoods of Muslim settlement … Australians, in general, are more fearful.
"Islam cannot have a significant presence in Australia if we are to live in an open, secular and cohesive society.
"We have seen the destruction it is causing around the world. We will be treated as second class citizens with second class rights if we continue with the, 'She'll be right mate' attitude."
Ad. Article continues below.
It was at this point that Greens leader Richard Di Natale and his colleagues got up and marched out of the room.
"Racism has no place in Parliament but that is what we have just heard from Senator Hanson. I stand by those people hurt by her words," he tweeted, adding he has "obligation to call out racism wherever it occurs."
Ms Hanson also put mothers on welfare on notice, saying they should only receive payments for one child and not more.
"If they have more there will be no increase to the welfare payment get a job and start taking responsibility for your own actions," she said.
She also targeted Family Law, saying women make "frivolous claims" and that unless there were changes "we will continue to see murders out of sheer frustration".
Ad. Article continues below.
What are your thoughts on Pauline's comments?
Do you agree with her on all fronts? Or is she out of line?