Pauline Hanson and Tony Abbott appear to kiss and make up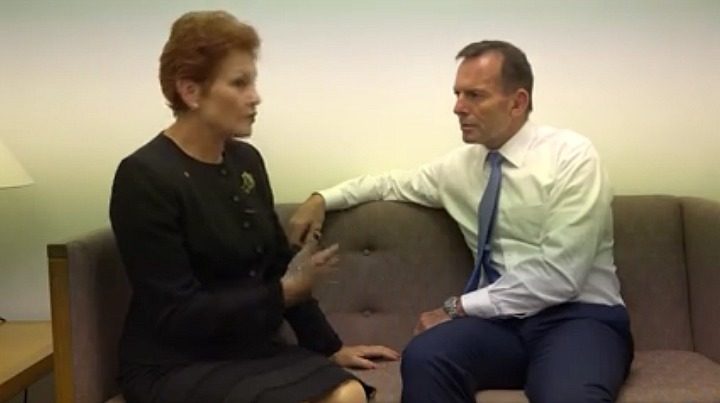 They've had a volatile relationship in the past, but it looks like One Nation leader Pauline Hanson and former PM Tony Abbott have finally made up.
In a staged video posted to Ms Hanson's Facebook page, the Senator and Mr Abbott sat on a couch in her Canberra office and spoke about how they were looking forward to working together.
"Pauline it's good to catch up with you after all these years," Mr Abbott said, seemingly ignoring the fact that he lead a fierce campaign against her.
"I think it is great too and I really appreciate you coming to my office and saying 'hello' and welcoming me to the Parliament," Ms Hanson replied.
"And we've had a bit of a chat and we've had a cup of coffee and it's great and I really to appreciate that Tony."
Ad. Article continues below.
Previously, Ms Hanson had spent years blaming Mr Abbott for her imprisonment in the 1990s and for the now quashed electoral fraud charges brought against her.
It looks like all is forgiven though as the pari shook hands and sang each others praises.
"Pauline there are half a million people who voted for you and you'll be a strong voice for their concerns," Mr Abbott said.
While the video was already been viewed nearly 100,000 times, it's certainly dividing the community.
Ad. Article continues below.
Some have said it's nice to see them working together for the first time, while others have branded it "creepy".
"There is enough bitterness and hatred in the world today so it's great seeing you sharing the love," said one commenter.
"Proud of you Pauline… Couldn't of been easy for you.. Glad to see your the bigger person and put the pass behind you," said another.
Not everyone was as forgiving though. Commenters and even media outlets have lashed out saying it is "bizarre".
"This is one of the most awkward and uncomfortable things I've ever seen," said one a Facebook commenter.
Ad. Article continues below.
"Good lord, if these two are working together the whole country is officially ruined," said another.
So is it a genuine 'make up', or is this a staged disaster?
Are you glad Pauline Hanson and Tony Abbott have committed to working together? Or do you think this is all for the cameras?