Paramedics grant dying patient's wish in touching final act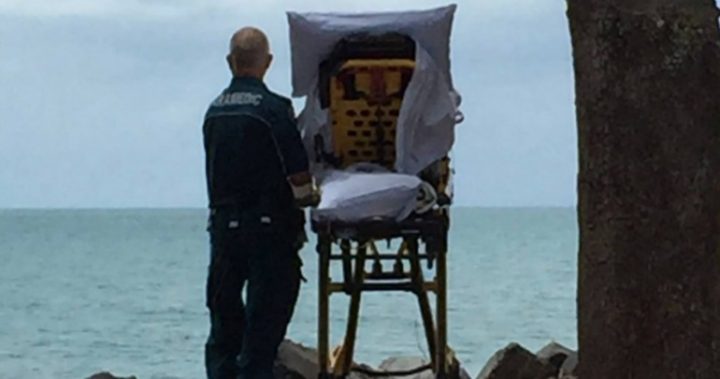 When it comes to the end of the road, it's not the hospital charts and mountains of medication that matter, but the moments of kindness and real human empathy.
No one knows this better than Hervey Bay paramedics Danielle and Graeme, who granted a dying patient her last wish to see the ocean again.
The Queensland Ambulance Service (QAS) shared a photo on their Facebook page on Thursday showing Graeme looking out over the ocean next to a trolley bed that was propped up so his palliative care patient could look out over the water one last time.
"A crew were transporting a patient to the palliative care unit of the local Hospital and the patient expressed that she just wished she could be at the beach again," they wrote.
They said the paramedics decided to take a diversion and drove her to the beach at Hervey Bay where they wheeled her out and found a comfortable spot for her to take in the view.
Ad. Article continues below.
They said tears were shed as took it all in one last time.
"Sometimes it is not the drugs/training/skills – sometimes all you need is empathy to make a difference!" QAS wrote.
Graeme told The Sydney Morning Herald he grabbed a bag from the ambulance van and filled it with water from the ocean so the patient could ran her hands through it.
"She felt the ocean and tasted the salt water," he said.
Ad. Article continues below.
"When she put her hand in the water, I could just see her chest and I could see her heart rate accelerate.
"She turned around and was looking out and eventually she closed her eyes and her hand stopped moving."
He said she told them she was at peace and that everything felt "right" after that.
It's a touching moment in what is often a difficult and distressing time for patients and families.
While palliative care unites often go above and beyond to make patients and their families comfortable, it can be hard for those in care spending their final days away from their home and their normal environment.
Here's hoping there are many more moments like this in future.
Have you had a family member in palliative care? Do you think we need more of a personal touch in our health system?