Paralympian reveals heartbreaking reason why this Rio Games will be her last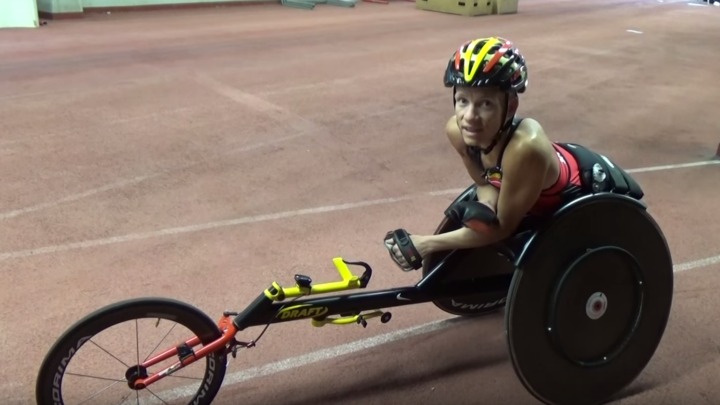 Marieke Vervoot, 37, a Belgian athlete, suffers from an incurable spinal degenerative disease that has left her confined to a wheelchair.
But despite the condition, she has defied all odds to become one of the world's leading Paralympians so much so that she won gold in the 100m sprint and silver in 200m in the T52 class at the London Paralympics in 2012.
It's no surprise that she is hoping to repeat that success when the Rio event starts on Wednesday. However, sports fans have been left with a shocking news. Vervoot says that Rio will be her last Paralympics because she is now thinking about taking her life through euthanasia.
Although Vervoot's sporting performance keeps on improving, her health problems have been progressively deteriorating, and have now reached a point, where she says she will now consider euthanasia.
After the Games in Rio, she will head back to Belgium to consider where she believes ending her life could be the only choice left.
Ad. Article continues below.
She told the Daily Express: "I have a bucket list, including stunt flying, and I have started thinking about euthanasia."
Euthanasia has been legal in Belgium since 2002, provided that the written consent of three doctors can be produced. It is estimated that five people a day in Belgium die with the assistance of doctors, ranging from those with terminal illness to others with chronic, but not life threatening ailments. Holland was the first country in the world to legalise euthanasia.
Vervoot's health started deteriorating in 2000 due to the rare disease which paralysed her.
But instead of just giving up, she started playing wheelchair basketball to aid in her recovery. Before she knew it, she was already competing in the 2007 Hawaii Ironman.
By 2008, Vervoot's condition deteriorated and had to stop taking part in triathlon so she moved on to wheelchair sprinting.
Ad. Article continues below.
She revealed to French newspaper Le Parisien: "Everybody sees me laugh with my gold medal, but no one sees the dark side."
"I suffer greatly, sometimes sleeping only ten minutes a night – and still go for the gold. Rio is my last wish."
What would you say to Vervoot? In your opinion, is euthanasia something that should ever be considered in our country?