Panic as flood waters rise in Texas, shots fired at rescuers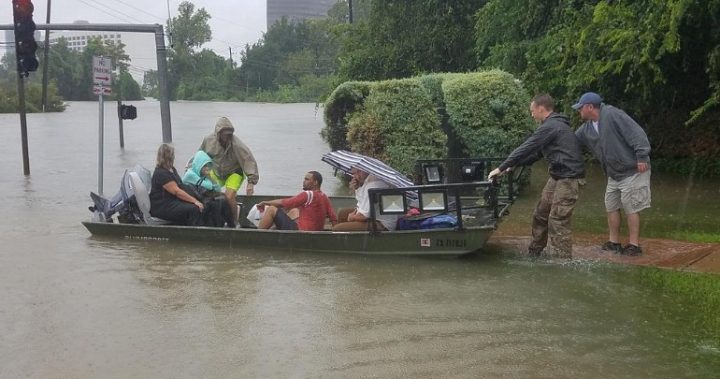 Panic is starting to rise in East Texas where rescue attempts are underway to remove hundreds of people trapped in the rising flood waters.
CNN reports desperate residents are shooting at rescuers if they aren't able to pick them up and that one group tried to steal a broken-down boat from a rescue crew.
Clyde Cain, of the rescue group Cajun Navy, told CNN that they were being hounded by residents trying to escape the rising waters.
"They're making it difficult for us to rescue them," he told the network. "You have people rushing the boat. Everyone wants to get in at the same time. They're panicking. Water is rising."
Authorities are calling for calm as volunteers and officials do their best to try to reach everyone in time.
Ad. Article continues below.
They couldn't save their home but they can save their dogs. 1 of the many families w/ pets struggling because of floods. #Hurricaneharvey pic.twitter.com/nDZYD3dMjb

— Gadi Schwartz (@GadiNBC) August 27, 2017
Texas has been inundated with rain since Hurricane Harvey ravaged the state at the weekend and the forecast predicts more rain coming.
Officials predict the storm will drive 30,000 people into shelters and forcce 450,000 victims to seek some sort of disaster assistance.
Astounding video shows numerous boats maneuvering around stranded vehicles on flooded street in Dickinson, Texas. https://t.co/JZvofyopoP pic.twitter.com/J5J2ZNxwiP

— ABC News (@ABC) August 27, 2017
Ad. Article continues below.
President Trump will visit the disaster-struck state tomorrow and has called for Texans to unite.
"We see neighbour helping neighbour, friend helping friend and stranger helping stranger. We are one American family. We hurt together, we struggle together and believe me, we endure together," he said on Monday.
He promised a swift response from Congress, saying they will get disaster relief funding to the state as quickly as possible.
Have you been following the floods in Texas? Are you affected?