Palace shares sweet photo of Queen and Philip as he retires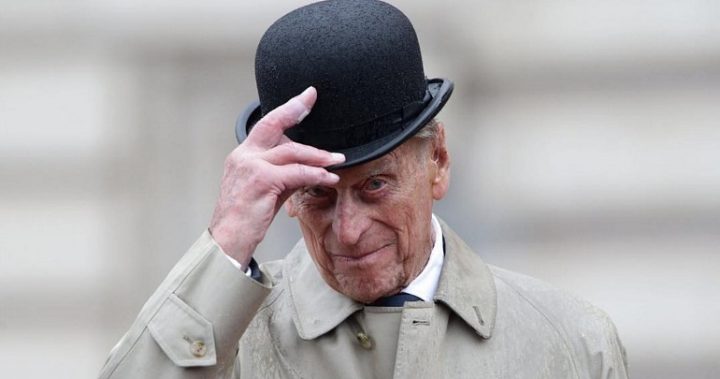 Prince Philip has officially retired!
The 96-year-old Duke of Edinburgh has hung up his hat after attending his final offical royal engagement at Buckingham Palace.
Philip met with the royal marines for the momentous occasion and was seen happily chatting and laughing as he made the rounds and before watching the Captain General's Parade across the palace grounds.
The royal family shared a series of photos from the day and said that since 1952, Philip has attended 22,219 solo engagements.
One of the final pictures taken at the parade shows Philip tipping his hat to the marines and photographers before signing off and officially started retired life.
Ad. Article continues below.
To mark the occasion, the Palace also shared a gorgeous new photo of the Queen and Prince Philip standing together on the Grounds of Buckingham Palace.
His Royal Highness may still attend events alongside The Queen from time to time. pic.twitter.com/qnamtDptM0

— The Royal Family (@RoyalFamily) August 2, 2017
Ad. Article continues below.
Read more: Vintage photo of Prince Philip looks just like Prince Harry
They said that while the Captain General's Parade marks the end of his own programme, Philip may choose to attend certain events, alongside the Queen in the future.
The Royal Family announced Philip's retirement in May.
Ad. Article continues below.
Since marrying the Queen, he has attended 637 solo overseas visits, given 5,496 speeches and authored 14 books.
He also made a name for himself as one of the most gaffe-prone royals over the years, with people around the world having a good old chuckle at his candid comments at events.
Ad. Article continues below.
Read more: Prince Philip's wit is as dry as ever
In 1965, on seeing an exhibition of "primitive" Ethiopian art, he was heard muttering: "It looks like the kind of thing my daughter would bring back from her school art lessons."
Later in 1995, he asked a Scottish driving instructor in Oban: "How do you keep the natives off the booze long enough to pass the test?"
He will no doubt be sorely missed by those on the royal circuit.
Here's to a happy retirement!
Do you have a message for Prince Philip as he heads into retirement?