Ozzy Osbourne surprises Sharon on TV show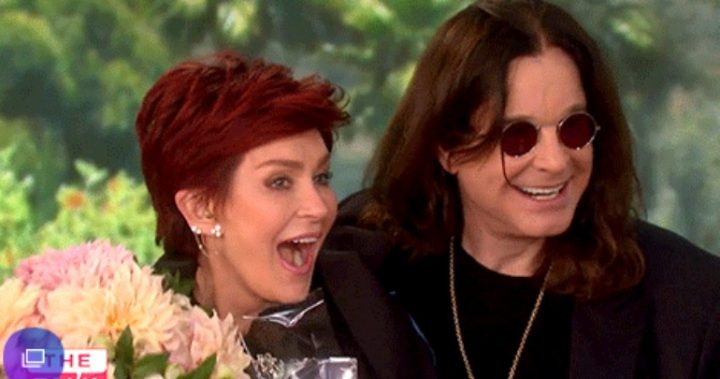 Do you remember earlier this year when Sharon Osbourne announced she was leaving Ozzy after finding out he had an affair?
Well, it appears the couple have patched things up and are working on their marriage.
Read more: How Sharon Osbourne found out about Ozzy's affair
Ozzy has surprised his wife of 34 years in the sweetest way on the TV show she co-hosts – The Talk.
In a teaser clip for the episode, Ozzy is seen walking on the set of the show with a bouquet of flowers for Sharon.
Ad. Article continues below.
Apparently, Sharon had no idea he was going to surprise him – and the look on her face is priceless.
It's the first time many people have seen the couple publicly together since they split in May.
If you missed the sneak preview clip, the audience were on their feet chanting Ozzy.
And the surprise had many in tears, including The Talk co-host Aisha Tyler – and of course, Sharon and Ozzy themselves.
Plus, there was lots of kissing!!
Ad. Article continues below.
Read more: Sharon and Ozzy Osbourne are going to marriage counselling
You might be wondering why there is so much buzz around the surprise?
Well, at the end of the clip Ozzy pulls out a black ring box and hands it to Sharon – who looked stunned and said "Hold on – what's going on here?"
Apparently, people are speculating that Ozzy's surprise may be a proposal or the couple may renew their vows.
Read more: Sharon and Ozzy Osbourne's daughter confirms their relationship status
Ad. Article continues below.
The Osbournes have been photographed kissing while walking their dogs in Malibu this week.
The TV surprise follows Sharon's appearance on Conan last week, in which she spoke about reconciling with her husband.
And in true Sharon style, she had a dig at his former mistress.
"After I got him glasses and said, 'My god — you do need glasses. Who would do that with that?'" she said she told him.
"So anyway, he now wears very think bifocals and he's fine."