Outrage as this airline bans check-in luggage on flights to Europe – what would you do?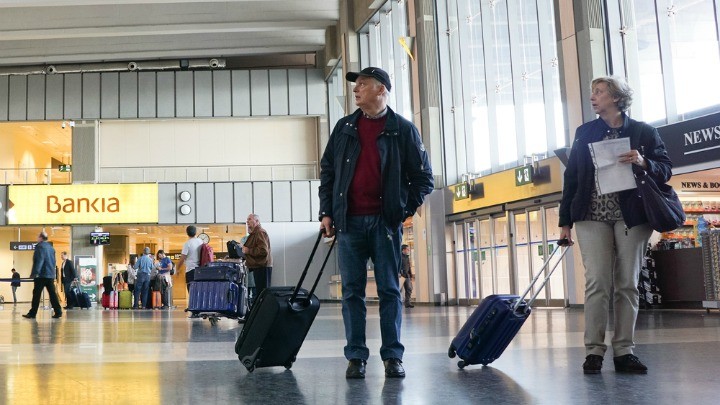 Imagine this – you're headed to Europe on holiday and you get a message telling you that your airline has banned check-in luggage on the Asia-to-Europe leg of your flight. All you're allowed is your seven kilogram hand luggage. What would you do?
This is the reality facing thousands of travellers today as Malaysia Airlines made history last night and imposed the ban. Here's what the troubled airline announced on Facebook:
In the interest of safety, Malaysia Airlines currently operates a long route to Europe via Egypt airspace, which combined with temporary unseasonably strong head winds, is limiting the airlines' ability to carry baggage in cargo.
This longer flight path consumes more jet fuel and for safety reasons, Malaysia Airlines has had to impose temporary limitation on checked in baggage allowance. From tonight, 5 January 2016 (until further notice), the airline will only be able to accommodate cabin baggage of up to 7kg – one piece totalling 7kg per Economy Class passengers and two pieces totalling 14kg (up to 7kg per piece) for Business/First Class passengers. Passengers who wish to check in their luggage will be able to do so, however their baggage will only arrive later.
Malaysia Airlines regrets the inconvenience caused to passengers and will deliver stranded baggage as soon as the situation permits. Guests are welcome to contact 1300-88-3000 or +603 7843 3000 (outside of Malaysia) for enquiries on the status of their checked in baggage.
Connecting passengers travelling on oneworld member carriers with through check in may also have their baggage offloaded due to this operational constraints.
Malaysia Airlines will continue to assess the changing situation over the region and will update passengers when operations are back to normal. Safety remains the centre of the airline's operations.
Ad. Article continues below.
Passengers have responded with outrage, with one commenter saying, "How can MAS expects its passengers to fly to Europe with 2 hand luggages only? Its winter in Europe!"
Another wrote, "You can't do this! My daughter has loads of books and school starts on Monday! If only I knew, I would have taken Singapore Airlines! This is cheating! Don't think any airline has ever done this to its passengers."
Another raised the issue of other essentials, "This is ridiculous. you could limit the number of passengers instead of limiting (prohibiting may be more appropriate) the checked in luggage… there are essential personal items that cannot be carried on board!"
Ad. Article continues below.
Malaysia Airlines has had a disastrous couple of years,  with the loss of two planes, one that was shot out of the sky and another that simply vanished. On Christmas Day, a flight from Aukland inexplicably flew in the wrong direction, the ABC reports.
The flights currently affected by the ban are between Kuala Lumpur and Amsterdam, and KL and Paris. Can you imagine arriving in Europe with no winter coat or even a change of knickers? What else would you be going without?
Do you think Malaysia Airlines has gone too far with this safety measure? Does this inspire confidence in the airline?