Oscar Pistorius "freed" from jail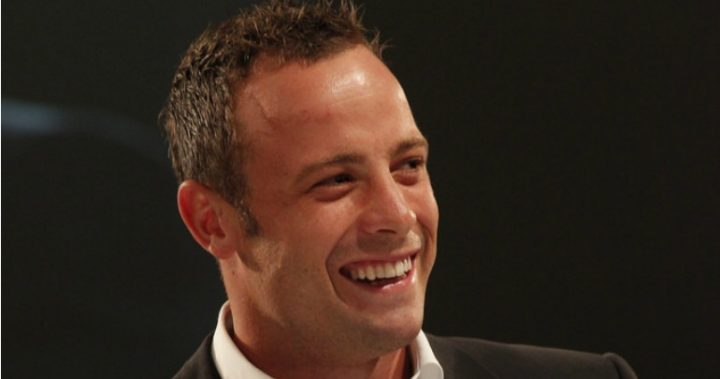 Disgraced Paralympian and convicted murderer Oscar Pistorius was secretly allowed to leave his maximum security prison for a few hours on Friday, to be able to attend his grandmother's memorial service and spend time with his family.
The shamed Olympian was given "compassionate leave" to attend the event because he is considered "low risk" by management at Kgosi Mampuru jail, where he is serving six years for murdering his girlfriend Reeva Steenkamp.
Pistorius's sister Aimee tweeted on October 9 that her grandmother' Gerti Pistorius, who was 92' had passed away. The siblings are among Mrs Pistorius' 26 grandchildren.
My beautiful & elegant Oumi has passed away. I will love and cherish the moments & memories we've shared x pic.twitter.com/CHzI7KjF4R

— Aimee Joy Pistorius (@AimeePistorius) October 9, 2016
Ad. Article continues below.
In a statement on Monday' the Department of Correctional Services said Pistorius had requested permission to attend the funeral of his late grandmother.
"The funeral was scheduled for Friday' 14 October 2016. This request was processed in accordance with the Departmental Policy on Amenities of Inmates'" Department spokesman Singabakho Nxumalo said on Monday.
He said the policy gives a number of privileges for offenders' and it was introduced primarily to encourage offenders towards good behaviour' to instil a sense of respon­sibility and to ensure their interest and co-operation in the integration into de­tention and treatment programmes.
"Compassionate leave is granted for the at­tendance of funerals and/or a serious sick­ness where it is expected that the person is dying. This concession is only granted when it concerns a direct family member (father' mother' child' spouse' bro­ther' sister' grandfather and grandmother)."
A source close to the family confirmed the double amputee was 'devastated' at hearing of the death of his 'oumi', and immediately applied for permission to attend her memorial service, which was held at a discreet hotel just a few miles from his cramped cell.
Ad. Article continues below.
Pistorius often used his limited ration of phone calls to keep in touch with Mrs Pistorius, and her husband Hendrik, who had helped raise him following the death of his mother when he was a teenager.
Before her death, Mrs Pistorius, who is survived by her 99-year-old husband, told MailOnline how proud she had remained of her disabled grandson, despite his conviction for murder.
"We pray for Oscar, we love Oscar, and we are very, very proud of Oscar. He is the same wonderful boy he always has been."
A day before his brief taste of freedom, Pistorius's lawyers were back in court to fight the latest legal battle since he murdered his girlfriend Reeva Steenkamp three years ago.
The runner's legal team filed papers before the Supreme Court of Appeal to oppose a petition by State prosecutor Gerrie Nel for leave to appeal against what he termed "a shockingly lenient sentence" for killing Reeva on Valentine's Day in 2013.
Ad. Article continues below.
In legal papers filed last Thursday, Pistorius' lawyers say it is an insult to allege that Judge Thokozile Masipa misdirected herself by overemphasising his personal circumstances.
However, prosecutors have applied to appeal Pistorius' six-year prison sentence saying it's shockingly inappropriate for the crime of murder.
Do you think the circumstances made it okay for Pistorius' leave to be granted, or do you think he's being treated with unfair leniency?