Olympic runner stuns crowd with true determination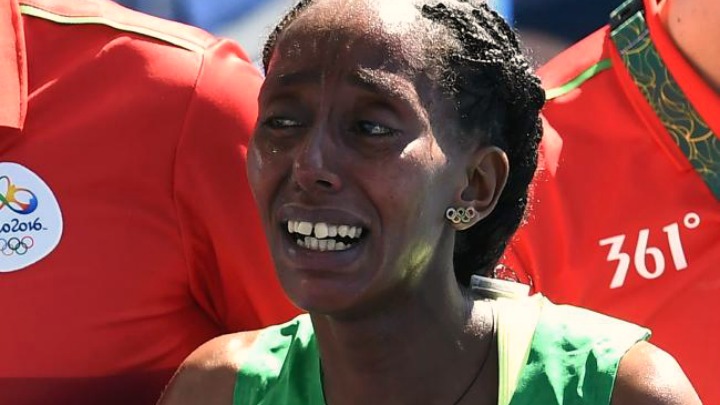 With one shoe on and one shoe off, Etenesh Diro raised a big cheer at the Olympics on Saturday with a gutsy finish in her 3,000-meters steeplechase heat.
Initially outside the qualifying places, the Ethiopian was rewarded — following a protest by three teams, including her own — with a place in Monday's final.
This is what happened:
Ms Diro — one of the favourites in the women's 3000m steeplechase — was sitting comfortably in first place about two-thirds into her heat at the Olympics when disaster struck. She got tangled up with some other competitors and her right shoe came half-off. For precious seconds, the Ethiopian athlete knelt on the track and tried to pull the shoe back on.
It just wouldn't go and runner after runner passed her. Finally giving up on it, Diro ripped the shoe off completely and threw it away, took a few steps, then removed her right sock, too.
Ad. Article continues below.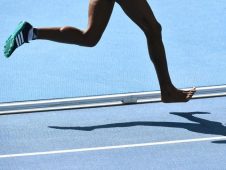 To say the crowd at Rio's Maracana Stadium got behind her was an understatement.
With every step of Diro's barren foot the energy went up a notch — and she responded by passing several runners in the final few laps to claim seventh.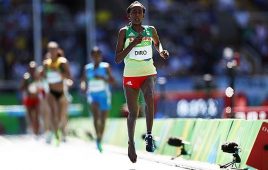 After the race Diro dropped to the ground in disappointment as competitors offered their support.
Ad. Article continues below.
She'd failed to qualify and lost the opportunity to improve on a sixth-placed finish in London. But then something heartwarming happened.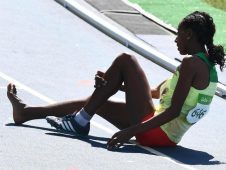 Three teams involved in the race protested.
The IAAF's jury of appeal reviewed video of the tumble following the series of protests shortly after the race.
It was decided that Ms Diro had been unfairly brought down and along with Jamaica's Aisha Praught and Ireland's Sara Treacy — who also fell after being impeded — would be given a place in the final, which expanded to 18 runners.
She will now be the fan favourite in the final, which also features Australian Genevieve LaCaze and starts at 12.15am Tuesday AEST.
Do you admire her determination?