Older couples unite after VERY long wait!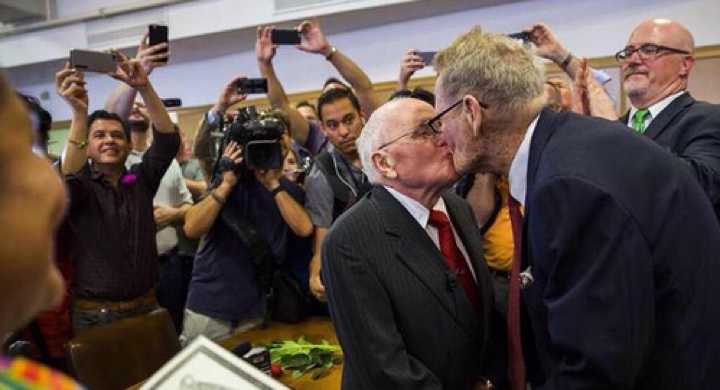 They've waited a very, VERY long time for this day. But as they say, love conquers all. So it comes as no surprise that many of the first to line up to seal their nuptials in celebration of yesterday's historic gay marriage laws in the US, were some of the county's oldest gay couples.
One of the most touching stories is that of Jack Evans, 85, and George Harris, 82, who have been together for 54 years. Their tweet below sums up, in the simplest form, what it means to them. #lovewins.
Then there's Bert Kubli and his 71-year-old partner Mark McElreath, who despite being married in Washington, sought the acknowledgement that their union meant the same as everyone elses. #lovewins
Beth Asaro, and Joanne Schailey became the first same-sex couple to exchange vows in New Jersey, after Governor Chris Christie dropped his battle against gay marriage, just days before the landmark Supreme court decision. Christie was quoted as saying 'there's no point fighting a losing battle'. #lovewins
There are stories after stories after stories.
Ad. Article continues below.
But it's not just about love. It's about the simple practicalities of a relationship. Perhaps Time best summed up what it meant to people.
'…for older members of the crowd, looking back on their own experiences, it was hard to believe how much had changed and how quickly. For the older generation, very real issues such as medical decisions and inheritance hinged on whether their relationship was codified as a marriage or not'.
So many of these couples simply never expected to be able to have their relationship, their marriage recognised in states such as Alabama, Mississippi or Virginia.
At the end of the day, irrespective of your view, the world is a happier place today…for young and old.
THIS COUPLE WAITED 54 YEARS TO GET MARRIED AND NOW THEY FINALLY CAN THIS IS AMAZING #lovewins pic.twitter.com/BuQlSeq9SQ

— Relatable (@reIatablemsgs) June 27, 2015
Ad. Article continues below.
My heart is happy #LoveWins ❤️ pic.twitter.com/Tr1ybEubR7

— Typical Girl (@female_books) June 27, 2015
Photographed Jackson, #Michigan's first two same-sex marriages at the Jackson County Clerk's office #LoveWins pic.twitter.com/6lrJbuPak3

— Jessica Christian (@jachristian) June 26, 2015
#lovewins "@thinkprogress: Utah ordered to recognize more than 1,300 same-sex marriages http://t.co/2rAv1m7iAB pic.twitter.com/Qk8cnsS13d"

— Robyn Kennedy (@ms_robynkennedy) May 21, 2014