Oh yes he did... Mark Latham takes a swipe at Michelle Payne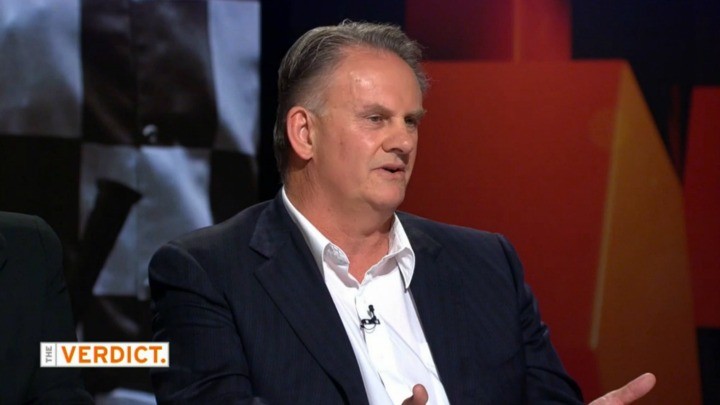 The whole world may be talking abut the incredible achievement of Michelle Payne right now, but there's one GOM (grumpy old man) who simply cannot see what the fuss is all about.
Mark Latham appeared on The Verdict last night criticising Melbourne Cup winner Michelle Payne for using her moment of glory to raise awareness of sexism in the horse racing industry.
The former Labor leader said it was "just no etiquette" and that "these things normally stay in-house".
"In the excitement of winning the Melbourne Cup she's excused anything, but it was certainly an unusual thing to talk about," Latham said.
The panel discussion was about why women's sport coms second and Mr Latham's comments were met with a moment of open-mouthed shock from his fellow panellists.
Ad. Article continues below.
Mr Latham said Ms Payne had clearly been given a fair go in the industry, "and that's obviously demonstrated by the fact she's ridden a Melbourne Cup winner".
There's no need to remind you that Ms Payne used her podium speech to stick it to the blokes who wanted her off the horse.
Also on the panel of the show was Amanda Vanstone who pointed out that not one of them has come forward to admit it was they who didn't want her to ride.
Mr Latham told her, "Amanda, you stick to your code and leave the horseracing to the experts."
The shock-jock ex-politician said he liked watching women's sports "in some cases" and that he was a fan of Serena Williams.
Ad. Article continues below.
"Whether people accept it or not, nature has given men greater physical strength, and in the sports where strength matters obviously the male players are a higher quality … spectators pay their money or watch TV, effectively giving up their time, they want to watch the very best."
What do you make of Mark Latham's comments? Was Michelle Payne wrong to call out sexism in racing when she won the Cup?