Obama gives speech at University of Queensland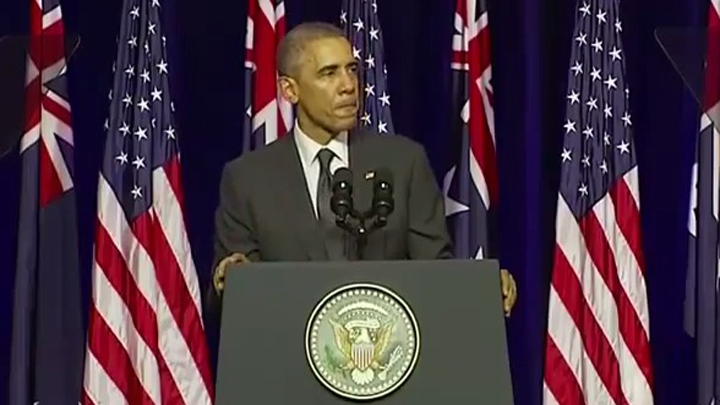 Barack Obama landed in Brisbane this morning to much fanfare and media coverage, but what the world was waiting for was his keynote speech at the University of Queensland's St Lucia campus.
Obama spoke for 30 minutes on a number of topics and started by thanking Australia for their friendship and urged the importance of our closeness in the future, going as far to say we are cut from the same cloth as America.
He went on to say that the world is a safer place at this time in history and, "When you look at the facts, opportunities are limitless for this generation; you are living in an extraordinary time".
Barack enthusiastically said he would finalise the Trans-Pacific Partnership agreement that has been under negotiation for years, a crucial deal that will open us all to new economic opportunities.
And despite Tony Abbott saying he didn't think the G20 summit was the place for talk of climate change, Obama said he had also pledged $US 3 billion to a global climate fund, which will no doubt put pressure on Australia. He wove the Great Barrier Reef into his speech, saying: "The incredible natural glory of the Great Barrier Reef is threatened". He wanted to come back with his daughters and for them to be able to bring their children in 50 years time and so on.
Ad. Article continues below.
He received a huge round of applause for gay rights and said, "We will stand up for our gay and lesbian fellow citizens because they need to be treated equally under the law".
In his usual humorous way, he also asked someone in the audience for a XXXX beer.
He received a standing ovation from the audience filled with students, as well as Queensland Premier Campbell Newman and former Governor-General Quentin Bryce.