Nurses sing beautiful carol to tiny premmie baby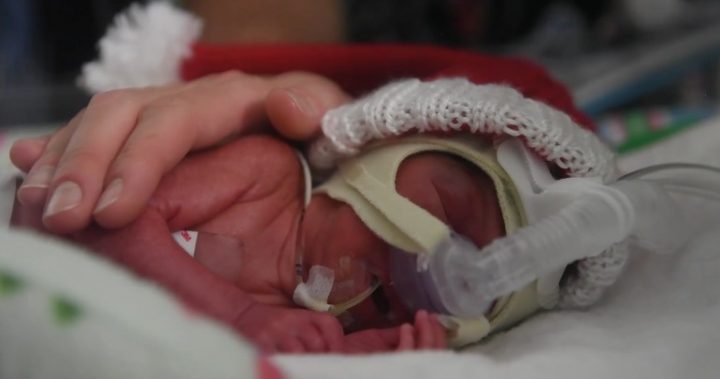 Our medical staff around the world already do so much for us, but two nurses in Canada have gone above and beyond this Christmas, singing a beautiful carol to one of their smallest patients.
Marieneth Montenegro and Lisa Sampson sang a stunning rendition of 'Have Yourself a Merry Little Christmas' to baby Anya, who was born on December 11 at Sunnybrook Health Sciences Centre in Toronto, and thankfully the gorgeous moment was captured on video.
Both Marieneth and Lisa are seen in the video with their hands resting on Anya's back as she lays in her crib with a tiny beanie on her head and a feeding tube in her mouth.
The beautiful little girl seems so calm and rested as she listens to the nurses soothing tones and the whole thing is enough to melt your heart!
Kate Robson, a parent co-ordinator at the NICU, decided to film the song and said singing is an ideal way of soothing a baby.
Ad. Article continues below.
"Babies love voices, and they love singing, and it's something we try to encourage," she told CBC Toronto.
"It calms them and it de-stresses them."
It certainly seemed to work for dear Anya and it was no doubt wonderful for her parents to know their little girl was being so well looked after.
The video has already received thousands of comments online, many from parents and grandparents who also had premature babies in neo-natal care at hospital.
"Sitting here crying as my beloved granddaughter Lily was in NICU for a few weeks. Very difficult days for our family but the wonderful nurses got us and Lily through it," wrote one grandmother.
Ad. Article continues below.
"God bless that little baby and all the babies in NICU as well as all the nurses and doctors and NICU staff. I will never forget how you all took good care of my daughter when she spent her Christmas and New Years there 2012," said a grateful father.
The touching video is enough to put a smile on your face and bring a tear to your eye!
Do you think our nurses around the world deserve more praise for all their hard work? Have you had a preemie baby in your family?