Nova Peris tells racist troll, "It stops with me"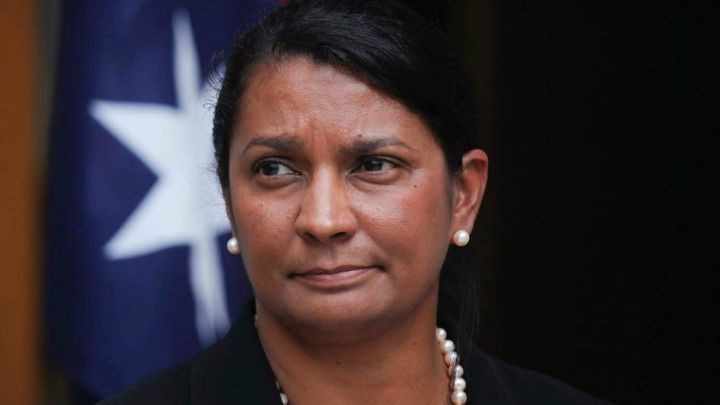 Olympic gold medallist Nova Peris has reacted with grace and leadership in the face of a disgusting racist attack.
The Indigenous Northern Territory senator publicly shamed a man who posted this message on her Facebook wall this week: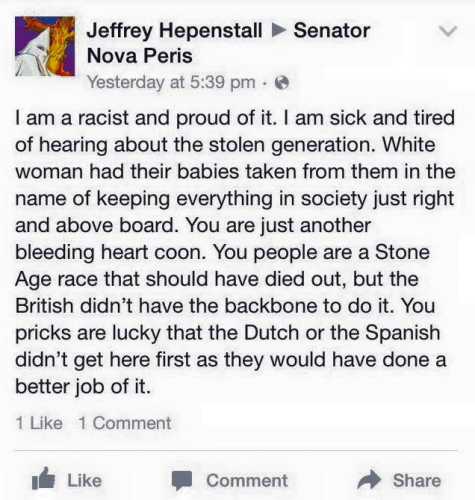 Ad. Article continues below.
Mr Peris posted this screenshot of the comment and in response to Jeffrey Hepenstall wrote a simple, powerful message that was complimented beautifully by Facebook tagging her location at that moment in time:
Ad. Article continues below.
The post has attracted 1200 comments and been shared more than a thousand times. Without referencing the bigot, Ms Peris took to the floor of the Australian Senate on Monday night and gave a stirring speech against racism.
"If we see racism or discrimination, let us not ignore it – let us fight it head on by having an open and truthful discussion and debate about it," she said, as reported by SBS.
"Let us educate ourselves about each other, about the deep hurt that people feel when they have been denigrated, vilified and made to feel less human by those who are weak of mind and mean spirited.
"We all bleed the one red blood. If we are to move forward as a nation and if we are going to close the gap on Aboriginal disadvantage, Aboriginal people must have a sense of pride in themselves and their culture. We cannot achieve anything without first believing in ourselves."
Ad. Article continues below.
The response to the posts has been outrage, with many people saying they are ashamed of their fellow citizen.
Jo Goodman wrote, "I can't believe this person! What a racist creep! He no doubt has descended from some long ago blow in to this country. How dare he! May he get his just desserts."
Tom Gardiner said, "I'm proud to stand here to this day and say I'm a proud young Aboriginal man and none can break my pride in that and to also say this racist guy is pathetic!"
Bernard Gregory added, "Whoever this person is, if he can call himself an Australian, should be bloody ashamed of himself, I'm proud to now be called an Australian even though I was born in England, and I'm proud of the Aboriginal peoples of Australia and to share this great country with them."
Karen Douglas, wrote: "Good on you Senator Nova Peris for exposing this diatribe and standing strong for your people and the rest of us. #itstopswithme"
What do you think of this man's message to Nova Peris? Do you have a message you'd like to share with the Senator?