Nothing can intimidate these Knitting Nannas!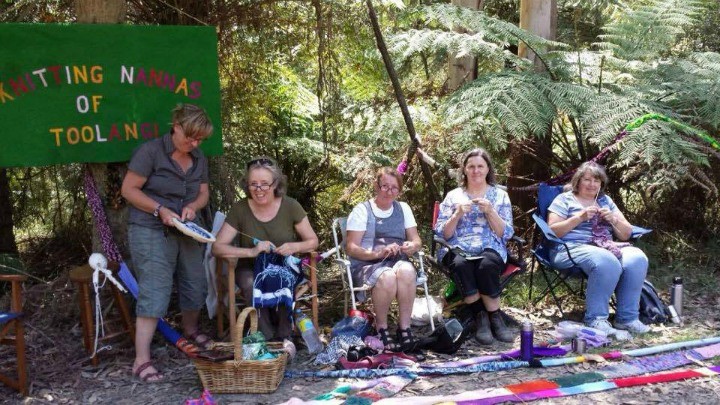 They're armed (with knitting needles) and dangerous, which must be the reason logging company workers feel the need to intimidate them, put their lives at risk and mock them. But that won't stop the Knitting Nannas of Toolangi patiently purling to protect their ancient forests.
The environmental group, which gathers to knit in a peaceful protest against logging of the ancient forest, has made a complaint to police after a logging truck allegedly zoomed past one of their wooly gatherings, narrowly missing a child and kicking u plumes of dust.
The Knitting Nannas posted this photo of the speeding truck to Facebook and was subsequently trolled by pro-loggers on their wall.
Ad. Article continues below.
One of the taunts was this image of a log from a tree believed to be hundreds of years old on the back of a logging truck: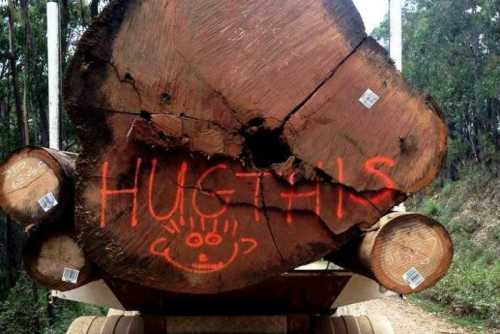 A spokeswoman for Knitting Nannas, who campaigned against the logging of environmentally sensitive parts of the Victorian forest told the ABC the photo showed a "lack of respect".
Ad. Article continues below.
The spokeswoman, who asked not to be named because of fear of reprisals said the Knitting Nannas was formed to stop intimidation from pro-logging groups.
"We're now being subjected to the same treatment," she said.
Nathan Trushell, of VicForests, the state-owned business responsible for logging, said it was following up with contractors on this issue and that it does not "condone this type of behaviour."
"We apologise to anyone who was offended by the photo," he said.
What do you make of this behaviour by the logging companies? Should the Nannas be allowed to knit in safety?