'No communication': Barbuda destroyed by Hurricane Irma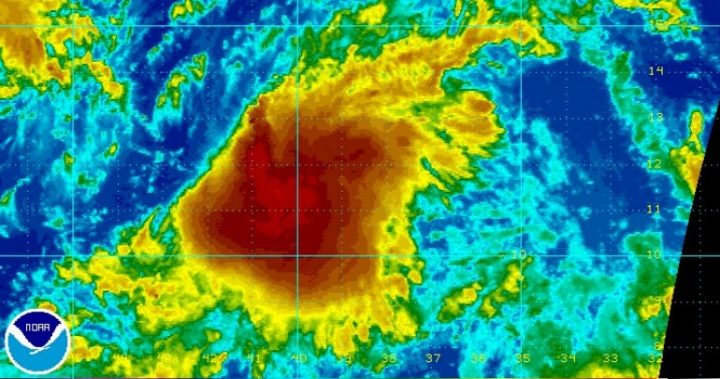 Two people are dead and more than 90 per cent of Barbuda has been destroyed after Hurricane Irma ripped through the Caribbean on Wednesday.
Video footage taken on the island shows buildings obliterated, palm trees pummelled to the ground and cars stranded in flooded streets as the islands 75,000 residents take shelter.
"Barbuda is literally rubble," Prime Minister Gaston Browne of Antigua and Barbuda told an interviewer with ABS TV/Radio Antigua.
"The entire housing stock was damaged," Browne said after visiting the island. "It is just a total devastation."
CNN reports that Antigua, Barbuda, St. Martin/St. Maarten and St Barts have all felt the fury of the Category 5 storm, which is one of the strongest ever recorded in the Atlantic.
Ad. Article continues below.
Is amazing the sound of this #Hurricane in Puerto Rico…! ? #Irma2017 #IrmaHurricane #Irma pic.twitter.com/1dop6IbMOb

— Francisco Olivas (@focente) September 6, 2017
French Interior Minister Gérard Collomb said the police department and barracks — two of the strongest buildings on the island — had been destroyed, boding ill for weaker structures on St Martin.
"In terms of material damage, the four strongest buildings on the island of St Martin have been destroyed, which means that the oldest buildings have undoubtedly been totally or partially destroyed," he told reporters.
The fire station in St Barts is said to be completely under water, with firefighters taking shelter on an upstairs level of the building.
Ad. Article continues below.
In St Martin, electricity has been out since 6am.
Harrowing footage from St Maarten shows Irma's 185 mph winds ripping through the island and leaving rubble in its wake.
At 185mph, Irma is well above the 157 mph threshold of a Category 5 storm.
Aside from local residents, the Caribbean is also home to the rich and famous. British billionaire Richard Branson tweeted from Necker Island — his own private island — to say he was bunking down with friends and family in his concrete wine cellar.
Ad. Article continues below.
I haven't had a sleepover quite like this since I was a kid. Wonderful team here on Necker all well https://t.co/tF84SPx7aB #Irma pic.twitter.com/DnnfUaeXhd

— Richard Branson (@richardbranson) September 6, 2017
Have you ever been caught in a storm like this? Have you ever visited the Caribbean?