Nick Kyrgios tanks out of the Australian Open in epic match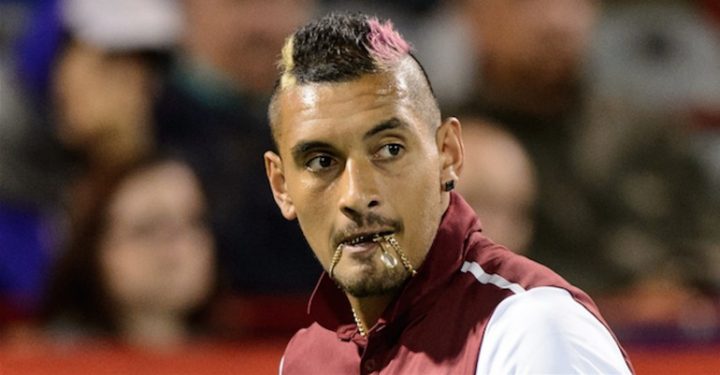 The ever temperamental Nick Kyrgios has crashed out of the Australian open in what many are describing as one of the worst tanks in history.
Nick was up two sets to love against Italy's Andreas Seppi, when somehow it all fell apart and once again he let his mental state get the better of him.
After double faulting, he earned himself a code violation fine from the umpire, which he quickly backed up with another fine for slamming his racquet on the ground.
He fought back to get to match point, but when Seppi ended up winning the game he appeared to give up.
Ad. Article continues below.
With the commentators, including Lleyton Hewitt, watching on in disbelief he stood still has Seppi served his final ball, not even bothering to have a go at it.
The loss is just the latest in a long line of similar instances for Nick, where he lets his attitude get the better of him and it seems other pros in the sport are fed up.
After the match ended, Tennis legend John McEnroe said Nick was a "black eye for the sport".
"What I don't understand, what I can't accept, is when he stops trying. It's a black eye for the sport," he said.
So should we be standing behind him and encouraging him to deal with this, or have we had enough of this.
Ad. Article continues below.
Nick has openly spoken about his love hate relationship with the sport before and is the only player in the top 100 who doesn't have a coach.
Even he seems to know it's time for a change though, saying after the match it was something he was considering.
With sport such a big part of Australian life, many have been disappointed to see his bad attitude time and time again with some telling his to shape up or ship out.
After blowing it last night, should we stand behind him? Some are pointing out that he is only young and can overcome his issues if the country rallies behind him, but others are saying he's blown it one too many times.
Did you watch last night? What did you think? Do you think Nick will outgrow this behaviour?