Nick Kyrgios takes on unseeded American in Brisbane International final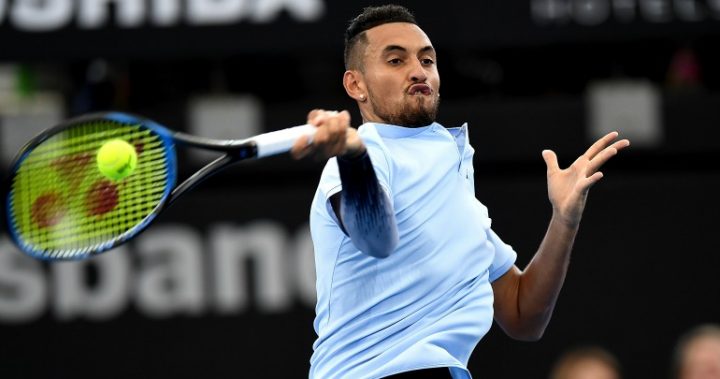 Australia's Nick Kyrgios is battling for the championship win at the Brisbane International tonight, taking on unseeded American Ryan Harrison on the famed blue court.
Kyrgios clawed his way back in the semi-final against world No.3 Grigor Dimitrov on Saturday, earning his spot in the final 3-6 6-1 6-4.
The oft-controversial player told media after the match that the last time he watched a Brisbane International final was in 2014 when his mentor Lleyton Hewitt upset top seed Roger Federer 6-1 4-6 6-3 in a surprise win.
"I just remember one year where Rusty (Hewitt) won his final – that was probably the last time I watched a final here," Kyrgios said. "It would be pretty cool to have my name next to his.
"It would be really good (to win a home title). I haven't won one in Australia before. I've got pretty fond memories here so it would be good to keep adding (to them)."
Ad. Article continues below.
Kyrgios has had a difficult few years on the court, marred by mid-match tantrums, fights with umpires and a general lack of caring about his career.
He's broken rackets, yelled at the crowed, sworn at his support team in the box and mouthed off on social media.
However, he opened up in a 2015 interview telling The Independent he was pushed into the game by his parents.
"I don't really like the sport of tennis that much. I don't love it. It was crazy when I was 14. I was all for basketball and I made the decision to play tennis. I got pushed by my parents and to this day I can still say I don't love the sport," he said.
He said he still entertained the idea in his head of switching codes, but wasn't seriously considering the move.
Ad. Article continues below.
"It's good when you're out there on a tennis court. There's nowhere to hide. It's all you, tactically, physically, mentally. But I just love basketball, I love the sport. I always have. I try when I'm on the road with tennis not to watch too many basketball videos and stuff like that, to keep me focused, but it's tough."
In October 2017, he was fined almost $A40,000 by the ATP after walking off the court during his opening match at the Shanghai Masters.
He packed his bags after losing the first set to 7-6 (7-5) to Steve Johnson and was booed by the crowed as he left the court.
He was famously without a coach for most of 2016 before hiring Sebastien Grosjean to be his part-time coach, meaning he still has space to himself.
But his mentors and supporters still haven't given up on him, with his incredible talent on the court hard to deny.
Kyrgios hasn't reached a Grand Slam final since the Australian Open in 2015, but with a Brisbane International trophy under his arm he might just be in with a chance.
Do you think Kyrgios has what it takes to be one of the greats?