Nick Kyrgios slams his critics after latest loss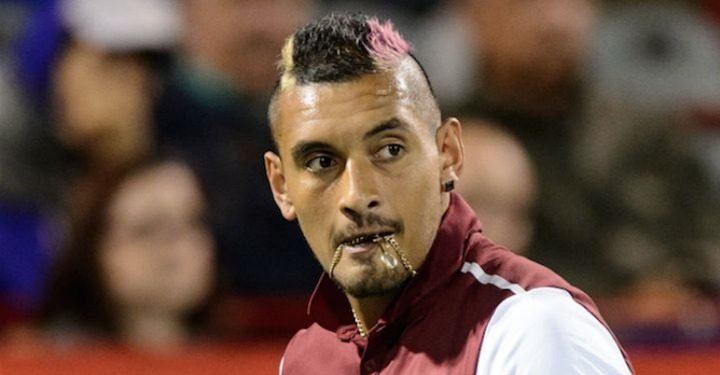 Earlier this week, Nick Kyrgios was riding high on one of the biggest wins of his career.
Now, he's making headlines for his on court behaviour after losing a match – and if you're a critic of his, he's got a message for you.
The Daily Mail is reporting that the Aussie tennis player was muttering on court and hitting his serves with less power than usual.
In fact, at one point the umpire Ali Nili pulled him up, describing his playing as "just not professional".
"Nick, you can't play like that," he said.
Ad. Article continues below.
"This is a professional tournament."
If you missed the match, Kyrgios at one point even asked Nili "Can you call time so I can finish this match and go home?"
He was also give a warning for swearing from Nili, before stopping the match to argue with a spectator who shouted out 'respect the game'.
"You wanna come here and play? Sit down and shut up and watch," Kyrgios shouted back.
Speaking after his 6-3, 6-1 loss, Kyrgios said he didn't understand the crowd's reaction.
Ad. Article continues below.
"I can't really understand it at all. They don't know what I'm going through, so no, I don't understand it," he said.
"I don't owe them anything. It's my choice. If you don't like it, I didn't ask you to come watch. Just leave."
And he had this to say abut his critics.
"I feel like if they knew what they were talking about they'd be on the tennis court and being successful as well," he said.
"If you're so good at giving advice and so good at tennis, why aren't you as good as me? Why aren't you on the tour?
Ad. Article continues below.
"You know I'm unpredictable. It's your choice. I don't owe you anything. Doesn't affect how I sleep at night."
What do you think of Nick Kyrgios' latest controversy? Is it acceptable behaviour for a professional tennis player?