Nick Kygrios says "If it doesn't get better, I'm done"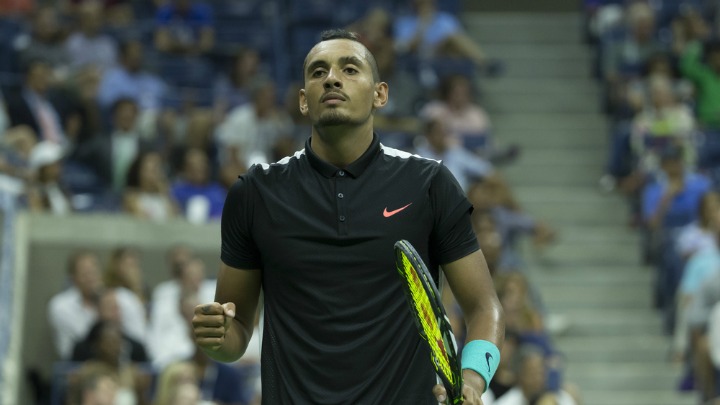 We've seen him angry and immature, but Nick Kyrgios painted a sorry sight this afternoon in the US Open. The Aussie tennis star broke down in tears at a change of ends in the third set of his third-round clash against Ukrainian Illya Marchenko.
At a set-all and down 4-1 in the third, Kyrgios was struggling massively with a hip complaint. He took a medical time-out at the end of the second and told the trainer: "If it doesn't get better, I'm done."
After three games in the third, Kyrgios looked towards his box and appeared to tell them: "Two more (games) then I'm done."
After those two games the trainer visited him again. Kyrgios explained how much he was struggling, but for a long part of the exchange he didn't say anything at all. Instead, he buried his face in a towel as the tears arrived.
He can say he doesn't like tennis all he wants, but this is him knowing he won't win after injury. #USOpen #Kyrgios pic.twitter.com/dKHWfgaMbY

— David Zita (@DavidZita1) September 4, 2016
Ad. Article continues below.
"I'm down 4-1, this is b******t," he said.
Unsurprisingly he went on to lose the third 6-1 and retired, ending his run at the year's final grand slam.
Kyrgios breezed through the first set and looked on track to do the exact same in the second before he was broken late and couldn't regain the momentum as Marchenko took it 6-4.
He started showing signs of being in considerable pain midway through the set, and the discomfort only got worse as the match progressed. He resorted to keeping points shorter and shorter, but ultimately Marchenko came out on top.
Ad. Article continues below.
Earlier, Kyrgios showed just what makes him such a rare talent, by displaying how well he could fight to the finish.
Nick Kyrgios is putting on a show!#USOpen
(via @doublefault28) pic.twitter.com/KWosNr9F09

— William Hill Aus (@WillHillAus) September 4, 2016
"No way. No way in the world!" said commentator Adam Peacock. "How has he made that?
"Look at the zip on that from an almost stationary ball, and the pace he was running at."
Ad. Article continues below.
"(That is) the rally of the tournament," added Wally Masur.
"That was a piece of brilliance from Marchenko.
"It's just a different level of skill that Nick has than a majority of players on tour."
What do you think of Nick Kyrgios? Is he just staging everything or does he genuinely wear his heart on his sleeve?