Nice compliment or sleezy pick-up? Are Trump's comments out of line?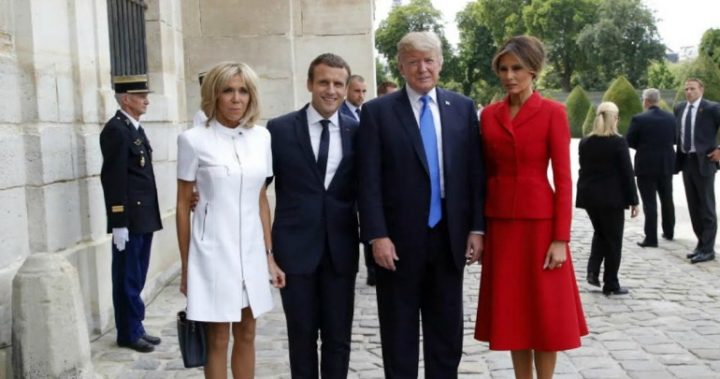 If you thought Donald Trump would learn from previous mistakes, you'll have to wait a little longer. On a two-day trip to France, Trump and his wife, Melania, were greeted by their European counterparts and the situation was awkward, to say the least.
When greeting the first lady of France, Brigitte Macron, Trump was clumsy in his attempts to match the European custom of a kiss on either cheek.
Almost turning the exchange into a forceful hug, Trump gripped Mrs Macron's shoulders and wasn't ready to let go when she drew away.
In the end, he awkwardly cradled Mrs Macron's hand as Mrs Trump and President Macron shared a seamless and far more delicate greeting.  
President @EmmanuelMacron,
Thank you for the beautiful welcome ceremony at Les Invalides today! pic.twitter.com/RKir1GcRrB

— Donald J. Trump (@realDonaldTrump) July 13, 2017
Ad. Article continues below.
After a few photo-ops and some more introductions, Trump decided to pay Mrs Macron a compliment.
"You're in such good shape," he says, gesturing to her figure.
Mrs Macron is 24 years her husband's senior – the same age difference between Trump and the US first lady.
Dressed for the French summer, Mrs Macron was sporting a short white ensemble.
Ad. Article continues below.
Mrs Macron brushed off the compliment, ready to escort Mrs Trump away while the two presidents talked. But Trump wasn't about to let his compliment go unheard.
"She's in such good physical shape," Trump reiterates, this time addressing the French president. "Beautiful."
With a polite "thank you" the French first lady led Mrs Trump away for their engagement.
Twitter users were quick to pick up on the awkward audio, which took place 54 minutes into a live video posted on Emmanuel Macron's public Facebook page. You can view the full video below.
Trump's trip to France was already off to a rocky start – en route to Paris, Trump told reporters that he would want his controversial US border wall to be see-through.  
Ad. Article continues below.
"One of the things with the wall is you need transparency," Trump says. "You have to be able to see through it. In other words, if you can't see through that wall – so it could be a steel wall with openings, but you have to have openings because you have to see what's on the other side of the wall.
"And I'll give you an example. As horrible as it sounds, when they throw the large sacks of drugs over, and if you have people on the other side of the wall, you don't see them – they hit you on the head with 60 pounds of stuff? It's over."
Construction on the see-through wall along the US-Mexico border has yet to commence.
What do you think of Trump's latest comments?