New record set at the Australian Open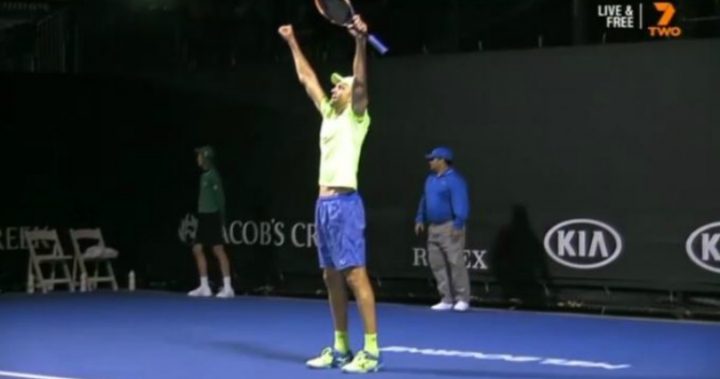 How would you feel playing 84 consecutive games of tennis? Probably a bit bloody tired. But you have to hand it to Croatian tennis player Ivo Karlovic and Argentine Horacia Zeballos for giving fans at the Australian Open tennis tournament on January 18 their money's worth.
The pair battled it out in a five-set slog and at the end of things they had set a new Australian Open record.
For five hours and 15 minutes the pair hit it out before 37-year-old Karlovic eventually claimed the win with an epic 6-7 (6-8), 3-6, 7-5, 6-2, 22-20.
If you add all of that up there are 84 games, making it the longest Australian Open match since tiebreaks were introduced in 1971.
The fifth set alone was 42 games stretching out over two hours and 37 minutes! Another Australian Open record right there.
Ad. Article continues below.
The moment 🇭🇷 @ivokarlovic broke the #AusOpen record books. #7TENNIS #restday #welldeserved pic.twitter.com/xRvogWyup6

— #7TENNIS 🎾 (@7tennis) January 17, 2017
Not only did Karlovic and Zeballos play 84 games of tennis back-to-back, they did it in some seriously hot weather conditions. The match started with temperatures around 37C.
Other statistics you should applaud:
Most number of aces served – 75 in total
Ad. Article continues below.
Karlovic his a whopping 141 winners to Zeballos' 96
Karlovic made 51 unforced errors, Zeballos only had 43
Karlovic won 91 per cent of his points off the first serve, a total of 127 our of 140 points
Karlovic dropped serve just once in the whole match
As far as time goes, it was the second longest running match, the record still retained by Novak Djokovic and Rafael Nadal for their 2012 Australian Open final that went for five hours and 53 minutes.
And if you were curious about how this match stacks up against other tennis games, away from the Australian Open, then spare a thought for American John Isner and Frenchman Nicolas Mahut who played for 11 hours and five minutes over three days, the final set of which had 138 games and lasted an incredible eight hours and 10 minutes.
Are you watching the Australian Open tennis tournament? What sports do you follow? What do you think of this extraordinary effort by the two players?