New low in Aussie politics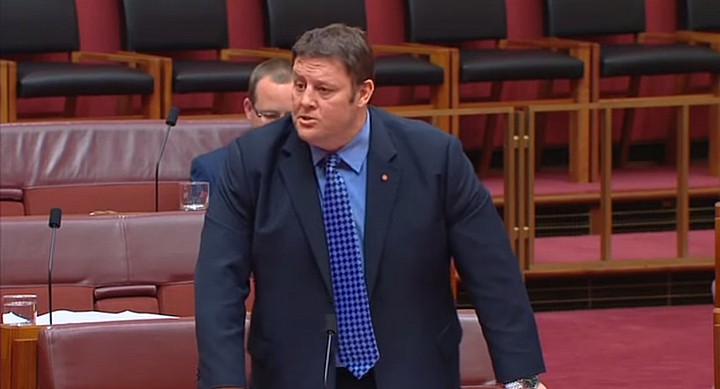 There's been some competition lately, but Australian political life, and debate, hit a new low via the Queensland senator, Glen Lazarus.
The former rugby league player was talking at an anti-Coal Seam Gas rally in Sydney, a serious issue, and one on which he has pursued seriously. But seriousness was dropped as he used rugby league terms as to how far he was prepared to go.
"I have threatened Tony Abbott to shirtfront him about this issue," he said
"I'm prepared to go and squirrel grip, squirrel grip, the Prime Minister," Senator Lazarus said.
A squirrel grip is, to put it politely, an unwanted grab in a private area of an opposing rugby league player.
Ad. Article continues below.
"If that doesn't work, I've got other things up my sleeve, like the grapple tackle, the chicken wing and even the crusher tackle."
"If that doesn't work, I'm prepared to use the Hopoate tactics," Senator Lazarus said.
What he is referring to here is an on-field incident in 2001, in which Hopoate inserted his finger into a delicate area of an opposition player.
Senator Lazarus demonstrates how he'll "squirrel grip" the PM over #csg. Thankfully he didn't show us the Hopoate. pic.twitter.com/qCWrbLpkcD

— Kate Ausburn (@kateausburn) July 7, 2015
Ad. Article continues below.
This was intended as a joke, but really, in trying to rally support this is an unwanted distraction on an important issue of public health.
In an era of politics when we are sometimes excluded from facts, and in which an entire Liberal front bench has been banned from appearing Q&A, a show in which the public have a rare chance to question politicians one-on-one, we need all the real debate, the opportunities to talk and question, that we can get.
What do you think? Do we deserve better than this from our elected public officials? Or can this be laughed off and thought of as relating to his audience?