New hope for Michael Buble's son in cancer battle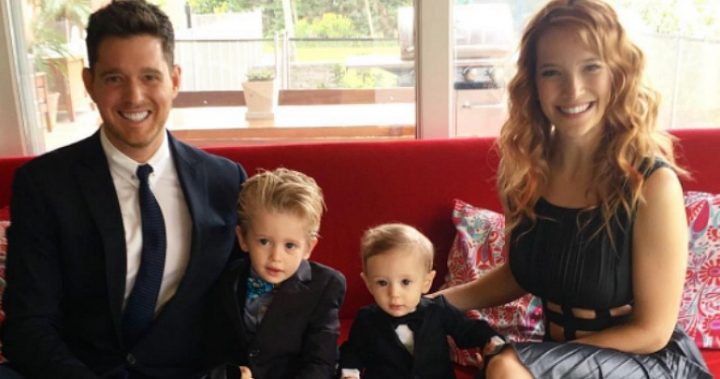 Fans around the world were devastated when news broke that Michael Buble's three-year-old son Noah had been diagnosed with liver cancer a few months ago, with Michael and his wife Luisana sharing the announcement on social media.
Now, it has been revealed that little Noah has begun treatment to shrink the tumour only a few weeks before Christmas with doctors hoping they will be able to operate and remove it before the New Year.
A magazine from Luisana's native Argentina reported the news, having previously spoken to the family about Noah's diagnosis.
Although it is an incredibly difficult time of the year to be heading into treatment like this, Noah's doctors say they are hoping the chemotherapy will work so he can start his recovery next year and get back full health.
Ad. Article continues below.
Christmas is usually a busy time of the year for Michael, who is beloved for his crooning Christmas carols and usually hosts a holiday special every year. He also released a new album in October, but has understandably cancelled all of his work commitments to be by Noah's side.
While liver cancer is one as young as Noah is unusual, doctors thankfully say he has a 90 per cent chance of beating the disease and getting back to life as a happy little boy.
Ad. Article continues below.
Luisana's elder sister Daniela has become somewhat of a family spokesperson for the couple since they announced Noah's illness and she told magazine Gente the whole family is certain Noah will overcome the disease.
"If God wanted it to be discovered that way, it's because he wants to save Noah," she said.
"Cancer is a horrible illness but we have faith in Noah being able to overcome this.
"We know he will. The time to start a long and very difficult treatment has come but it's got to be done.
Ad. Article continues below.
"They say children are normally strong to put up with chemotherapy and my nephew is a warrior.'
While Christmas is usually such a happy time of the year and a time of celebration, the Bubles are no doubt feeling strained this year. We're wishing them all the best as they take this journey and plenty of love as they head into the new year.
Do you have a Christmas message for the family? Have you ever been through a tough time around Christmas?