New development in Bali murder case spells trouble for Aussie mother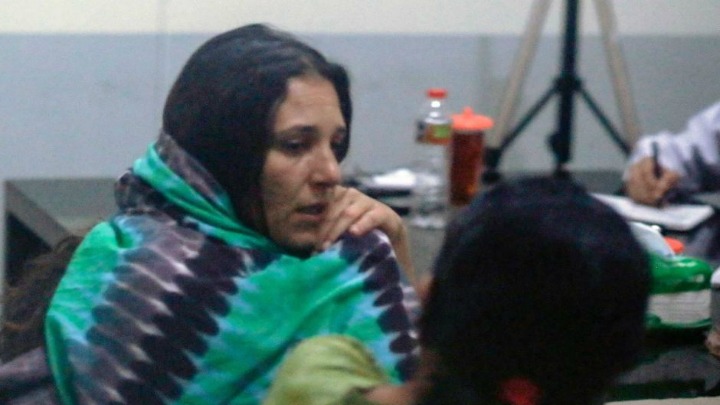 It's been 10 days since Australian mother-of-two Sara Connor, and Briton David Taylor were taken into custody after Balinese policeman, Wayan Sudarsa, was found dead on Kuta Beach with more than 40 wounds.
On Kuta Beach on last Wednesday morning, the body of officer Wayan Sudarsa was found with 42 wounds, including to his head and neck.
By the following Saturday, 45-year-old Sara Connor from Byron Bay and David Taylor, 34, were named suspects under charges including murder and assault causing death.Little was known about the incident at that point but Ms Connor was spotted with what appeared to be a bite mark to her thigh sparking questions from the public if a sexual assault was involved.
Then, Mr Taylor has told police that murdered cop Mr Sudarsa had held Ms Connor down in the sand and that she had screamed, attracting passersby who came to her aid.
Now, Ms Connor claims that she was the one who tried to protect Mr Sudarsa.
Ad. Article continues below.
The plot thickens as Bali investigators now say that six new witnesses have come forward.
Police say these new witnesses were actually at the site where Ms Connor and Mr Taylor allegedly burned the clothes they had been wearing on the morning of Wayan Sudarsa's death.
Their input is crucial as police try to produce a full reconstruction of the officer's death.
Both suspects are also expected to be returned to the scene of the alleged crime for the first time since it happened. It will be the first time they will be confronted with each other's version of events, after different stories emerging over the course of investigations.
"Our agenda is of course to prepare the dossier. We will do the reconstruction in the future and we will tell you about this," Bali's crime unit chief commissioner Reinhard Nainggolan said.
Ad. Article continues below.
"We will see there how the suspects committed their acts."
Ms Connor and her British boyfriend are still being detained at the Denpasar Police headquarters, about 10 days after they were named suspects in the case.
The Australian woman faces an additional charge of being an accomplice to murder.
Lawyers for Connor insist she is not guilty of murder and that she had tried to protect the victim from Taylor.
Ad. Article continues below.
She has now also employed Australian barrister Peter Strain to assist in her defence.
Commissioner Nainggolan said there were only two suspects in the case and murder was the predominant charge they both faced.
"It's the lawyer's job to defend their clients, but we are the investigators and if we found a victim who lost his life we use the charge of murder," he said.
Taylor will undergo psychological examination this morning. His co-accused was assessed late last week.
What do you think really happened?