Muslim leaders call for ABC apology over Lambie's Q&A slanging match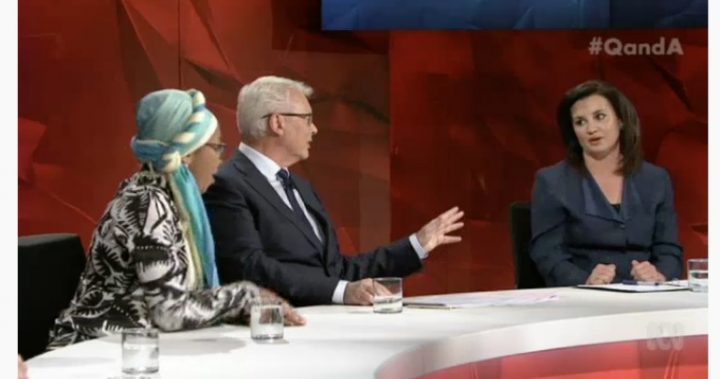 Muslim leaders want an apology from the ABC for allowing Jacqui Lambie to lambaste activist Yassmin Abdel-Magied on Q&A on Monday.
A group of Muslim organisations, activists and academics posted a petition on change.org today, asking people to support a complaint to the national broadcaster.
The group says in the petition that the Q&A episode, in which Lambie shouted at Abdel-Magied to "stop paying the victim," was a significant breach of the ABC's values of respect and integrity.
The senator from Tasmania's comments were racist, Islamophobic, crude and constituted racial abuse, the petition says.
Lambie and Abdel-Magied got into a heated debate after Lambie told the audience that Australia should introduce a Donald Trump-style immigration ban.
Ad. Article continues below.
She argued that Australia should "look after our own backyard first" and deport Muslims who "support Sharia law".
But Abdel-Magied hit back that the senator didn't know what sharia law was, rejecting Lambie's suggestion that the Islamic judicial system impinged on women's rights.
Islam was "the most feminist religion," the 25-year-old activist argued.
Is it time to define new rules so that migration doesn't disturb the peace? @JacquiLambie & @yassmin_a disagree vehemently #QandA pic.twitter.com/nRXyj3p2hG

— ABC Q&A (@QandA) February 13, 2017
Ad. Article continues below.
Host Tony Jones was forced to step in to stop the shouting match.
But the petition says that Jones made "no attempt to acknowledge the reasons behind Abdel-Magied's frustration and legitimate concern at the bigotry she was forced to respond to."
It claims there was no evidence the Muslim activist attacked Lambie "as a person."
As of Wednesday afternoon, 1,216 people have signed the petition.
In a statement also issued on Wednesday, the ABC says that Jones was an "effective moderator" of the unscripted program, in which exchanges were "fast-paced and unpredictable."
Ad. Article continues below.
"Q&A never sets out to gratuitously offend," the ABC says. "Jacqui Lambie is an elected senator representing the people of Tasmania in the Federal Parliament and a legitimate person to comment on these issues. Obviously, the ABC doesn't manage or control what federal MPs say."
Did you watch the fiery Q&A program? Was the ABC wrong to allow it to descend into a slanging match? Were both speakers equally aggressive or was Jacqui Lambie out of line?